The Association of Former Intelligence Officers (AFIO) presents this website to serve our members and visitors as a portal to the activities of AFIO and to provide word of upcoming educational events by other select intelligence groups.
---
CIRA and AFIO's 40th Anniversary Conference
and Celebration
25 - 26 August 2015

CIRA (Central Intelligence Retirees Association) and
AFIO (Association of Former Intelligence Officers) are holding a joint conference and celebration of our 40th anniversaries
on 25-26 August 2015.

Day One - Tuesday, 25 August: This celebration coincides with the next CIA Annuitant Reunion on 25 August where many CIRA and AFIO members, who are CIA retirees, will be in attendance.
AFIO and CIRA members who are CIA annuitants and who retired on an even year, have been invited directly by CIA and should sign up for that day when the CIA invitation arrives in your inbox. Annuitants of odd years who wish to attend may register through the links below.
RESTRICTION: To attend Day One at CIA you need to have been an employee, at some time, of any member agency of the Intelligence Community (or are now currently with, or retired from, one of those agencies). A spouse accompanying you may attend without prior IC employment. Restriction does not apply to Day Two.

Day Two - Wednesday, 26 August: The conference expands and continues on Day Two at the Sheraton Tysons Hotel, with many CIA, CIRA, AFIO, and other IC speakers and panelists. This second day ends with a "Spies in Black Ties"™ Anniversary Reception and Awards Banquet.

Invitation Letter to Members

To apply securely online, use form here.

To print-and-mail a registration form, open it here.

Space at this special event is limited.

If you have questions, contact afio@afio.com

Upcoming AFIO and Intelligence Community Events
Many informative, fascinating programs are occuring in the Washington Metro Area and across the country. Find out which ones to add to your calendar to stay connected and to stay current.

Corporate
Learn how your company can make a difference with AFIO corporate memberships and marketing opportunities. Reach more than 4,800 intelligence professionals.

National Members
Join AFIO or renew your existing membership and enjoy member benefits, such as special invitations to events, unique banking & investment services, scholarships and career assistance.

Publications
Sign up and receive the popular Weekly Intelligence Notes [WINs] and the printed industry journal: Intelligencer - Journal of U.S. Intelligence Studies, 3 issues per year for the intelligence community by intelligence professionals. AFIO also produces Intelligence As A Career - a frequently updated printed and online guide to organizing your life and education to qualify for work in the intelligence community, and a Guide to the Study of Intelligence intended to assist college instructors and secondary school teachers of history, civics, and current events.

About Us
Learn about AFIO - our many events, publications, programs, and legislative alerts. Support AFIO with purchases and donations or meet our members at events throughout the US. Make your views known.

Chapters
Local AFIO Chapters are the heart of AFIO activities for many members, so join AFIO National and then consider adding a local chapter membership to your mix.

Upcoming AFIO and related Organization Educational Events ... Full listings found here

15 July 2015, 11:30am - 2pm - San Francisco, CA - The AFIO Andre LeGallo Chapter hosts John Lightfoot, Assistant Special Agent in Charge of the Counterterrorism branch in the FBI San Francisco Division.

Topic will be "Current Issues in Terrorism: Here and Over There". ASAC Lightfoot will discuss Al-Q'aida today, the rise and threat of the Islamic State, domestic groups and updates on recent Bay Area cases. 11:30AM no host cocktails; meeting starts at noon. Note different location: Basque Cultural Center: 599 Railroad Ave, South San Francisco, CA 94080.
E-mail RSVP to Mariko Kawaguchi at afiosf@aol.com with your meal choice (Salmon with Champagne Sauce OR Breast of Chicken Chasseur) and you will be sent an Eventbrite link to register. Alternately, mail a check made out to "AFIO" to: Mariko Kawaguchi, P.O. Box 117578, Burlingame, CA 94011. Members and students: $25; non-members $35. $35 at the door. RSVP is required by July 3, 2015 - no walk-ins.

---

Tuesday, 11 August 2015 - MacDill AFB, Florida - The AFIO Suncoast Chapter hosts Karl D. Klicker, EdD, speaking on the Islamic State.

Dr. Karl Klicker is a retired Marine Corps Intelligence Officer, currently employed by Jacobs Technology as Principal Strategist supporting US Special Operations Command. He has served on psychological operations, civil affairs, interagency task force and strategic planning teams.
Klicker is the author of Indoc: Ideology, Propaganda and Conflict in the Corps and al-Qaida, a study of internal cultural tensions within the Marine Corps, the roots of division in the Sunni and Shi'a camps; the social psychology of recruiting for war; and the ongoing conflict between radical Islamists and America's armed forces.

LOCATION: MacDill AFB Surf's Edge Club, 7315 Bayshore Blvd, MacDill AFB, FL 33621. Please RSVP by 15 August to the Chapter Secretary for yourself and include the names and email addresses of any guests. Email or call Michael Shapiro at sectysuncoastafio@att.net. You will receive a confirmation via email. If you do not, contact the Chapter Secretary to confirm your registration. Check-in at noon; opening ceremonies, lunch and business meeting at 1230 hours, followed by our speaker.
FEE: You must present your $20 check payable to "Suncoast Chapter, AFIO" (or cash) at check-in to cover the luncheon. If you make a reservation, don't cancel and get a cancellation confirmation by the response deadline and then don't show up, you will be responsible for the cost of the luncheon.

---

NEW....

NEW: AFIO's Intelligence Community Mousepad

Full color seals of all 18 members of the U.S. Intelligence Community on this 8" round, slick surface, nonskid, rubber-backed mouse pad. Price: $20.00 for 2 pads [includes shipping to U.S. based address, only. For foreign shipments, we will contact you with a quote.] Great gift for colleagues and self. Click image above for larger image.

Saturday, 8 August 2015 - Orange Park, FL - AFIO North Florida Chapter hosts meeting

Location: Country Club of Orange Park. Questions and reservations: Quiel Begonia at qbegonia@comcast.net call 352-332-6150. Cost will be $16 each, pay the Country Club at the luncheon.

---

Monday 28 September 2015 - New York, NY - AFIO Metro NY Chapter hears former FBI Special Agent Edward M. Stroz

Speaker Edward Stroz, former FBI, now with the NYC-based firm of Stroz Friedberg, a global leader in investigations, intelligence, and risk management. Topic and registration details to follow in coming weeks.
Stronz was a Special Agent for the FBI before founding Stroz Friedberg in 2000. He is an expert on electronic evidence and investigations, internet extortions, denial of service attacks, computer hacking, insider abuse, theft of trade secrets, electronic discovery matters, and regularly provides expert testimony on these matters. Mr. Stroz pioneered the use of behavioral science in investigations to gain insights about intent and state-of-mind of computer users. He has supervised hundreds of forensic assignments in assisting corporate clients, trial counsel, individuals, and has conducted security assessments for major public and private entities. While at the Bureau, Stroz was responsible for the formation of the FBI's Computer Crime Squad in New York City, where he supervised investigations involving computer intrusions, denial of service attacks, illegal Internet wiretapping, fraud, and violations of intellectual property rights, including trade secrets.
Location: Society of Illustrators building, 128 East 63rd St, between Park Ave and Lexington Ave.
COST: $50/person Cash or check, payable at the door only. Dinner to follow talk & Q&A. Cash bar. RESERVATIONS: Strongly suggested, not required, Email Jerry Goodwin afiometro@gmail.com or phone 646-717-3776.

---

Teaching -- or Seeking to learn more -- about the world of Intelligence?

AFIO's Guide to the Study of Intelligence
Are You Using It?
The Guide consists of more than 66 articles on all aspects of intelligence. It is intended to help instructors become familiar with intelligence-related subjects. Guide articles, written by both academic experts and seasoned practitioners, are introductions to the subject with recommended readings for further study.
Guide articles appear in AFIO's journal Intelligencer and as PDFs on our website here.
They are free for academic use.

For a complete list of what articles are available at this time, view this pdf.

OTHER IMPORTANT UPCOMING EDUCATIONAL EVENTS....

Thursday, 9 July 2015, 6:30pm - Washington DC - "code name: CYNTHIA" - A Spy Musical - at the International Spy Museum

Get yourself to this staged reading and singing of the action-packed new spy musical celebrating the exploits of Betty Thorpe whose real spy career ranged from Madrid to Warsaw to Washington.

Presented by the Pallas Theatre Collective, "code name: CYNTHIA" opens as Paris falls to the Nazis and master spy Betty Thorpe (code name: Cynthia) barely escapes with her life. When a mysterious mastermind blackmails the stunning beauty back into intelligence for the Allies, Betty resolves to seduce the enemy, steal France's naval codes from the Vichy Embassy in Washington, DC, and save her own delicate world from falling to pieces. This lyrical homage features music by Karen Multer and book and lyrics by Steve Multer, a 2014 finalist for the Kleban Prize in Musical Theatre.

Tickets: FREE! No reservation required. Visit www.spymuseum.org

---

Wednesday, 15 July 2015, noon - Washington, DC - The Billion Dollar Spy: Author Debriefing at the International Spy Museum

While getting into his car on the evening of February 16, 1978, the chief of the CIA's Moscow station was handed an envelope by an unknown Russian. Its contents stunned the Americans: details of top secret Soviet research and development in military technology that was totally unknown to the United States.

From David Hoffman, the Pulitzer Prize-winning author of The Dead Hand, comes the riveting story of the CIA's most valuable spy in the Soviet Union and an evocative portrait of the agency's Moscow station, an outpost of daring espionage in the last years of the Cold War. Drawing on previously secret documents obtained from the CIA, as well as interviews with participants, Hoffman will reveal how the depredations of the Soviet state motivated one man to master the craft of spying against his own nation until he was betrayed to the KGB by a disgruntled former CIA trainee. No one has ever told this story before in such detail, and Hoffman's deep knowledge of spycraft, the Cold War, and military technology makes him uniquely qualified to bring to the International Spy Museum this real life espionage thriller.

Tickets: FREE! No reservation required. Visit www.spymuseum.org

---

12 - 15 July 2015 - Ireland - Mercyhurst University's Global Intelligence Forum 2015 on "Intelligence-Informed Decision-Making to Build a More Secure Future"

The Theme: Intelligence-Informed Decision-Making to Build a More Secure Future
The Global Intelligence Forum continues down the path of intelligence innovation and discovery first begun in July 2010 with our exploration of the nature of analysis and its application in various intelligence professions. In 2011 and 2013, the discussion centered on the interaction between the intelligence analyst/practitioner and the decision-maker. In July 2015, we continue to build bridges between decision-makers, practitioners and scholars in the fields of cyber security, geospatial intelligence, and data analytics. Best practice panels and speakers will also explore anticipatory analytics, and the wicked problem approach to intelligence challenges. Additionally, the Forum will provide a breakout session for Higher Education leaders to discuss the application of intelligence practices to higher education decision-making. We will bring best practices in 21st century intelligence and data management to the examination of what leaders in the public and private sectors require to make more effective decisions.
Speakers:
Commissioner Nóirín O'Sullivan, Commissioner of the Garda, Ireland's National Police Service
Lewis C. Merletti, Former Director, U.S. Secret Service (Keynote Speaker)
The Honorable Howard Schmidt, Partner at Ridge - Schmidt Cyber (Keynote Speaker)
Ian McCulloh, Sr., Scientist in the Asymmetric Operations Dept of the John Hopkins University Applied Physics Lab
Abe Usher, Chief Technology Officer, HumanGeo Group
More about these and other speakers is available here.
To register, do so here.
Mailing address: Tom Ridge School of Intelligence Studies and Information Science, Mercyhurst University, 501 East 38th St, Erie, PA 16546-0002

---

14 October 2015, 6 - 9 pm - Arlington, VA - Silver Anniversary Gala and Chancellor's Dinner by Institute of World Politics

Since its founding, IWP has grown into the nation's premier graduate school dedicated to developing leaders with a sound understanding of international realities and the ethical conduct of statecraft, based on knowledge and appreciation of the founding principles of the American political economy and the Western moral tradition.
Location: The Ritz-Carlton, Pentagon City, 1250 South Hayes St, Arlington, VA 22202
Sponsorship & Tickets: For information on sponsorship opportunities and ticket purchases, please contact Jennifer Giglio at 202.462.2101 ext. 312 or jgiglio@iwp.edu.
Accommodations: A limited room block held at The Ritz-Carlton, Pentagon City is available at the rate of $269 per night.
To make your reservation, please click here. Input the Arrival Date, Departure Date and Group Code: WPGWPGA.
To make your reservation, by phone, please call 1.800.241.3333. Reference the Group Name: The Institute of World Politics
Schedule of Events: 6:00 pm Cocktail Reception, 7:00 pm Dinner and Program
Keynote Speaker: Lt. Gen. Michael T. Flynn, USA (Ret.), 18th Director of the Defense Intelligence Agency
Entertainment: Keni Thomas, Award winning Nashville singer-song writer and a decorated combat veteran with the elite 75th Ranger Regiment special operations unit.
Attire: Black Tie or Military Dress Equivalent
Guests: An estimated 500 guests will gather to celebrate 25 years of The Institute of World Politics' accomplishments and inspire the next generation of leaders. The event will bring together national and international civic and business leaders, members of Congress, and IWP supporters to reflect on the work of the Institute.
Questions to Jennifer E. Giglio at JGiglio@iwp.edu.
NOW AVAILABLE
Getting a Security Clearance: Questions and Answers about what they are, how they are conducted,
how you can qualify, how long they take, and what can put them in jeopardy.

Two valuable booklets are now available
The Security Clearance Process: Answers to Frequently Asked Questions - by the Congressional Research Service, Sept 2013
[PDF]
Security Clearances - FAQs - ClearanceJobs.com / DICE
[PDF]
---
Intelligence as a Career -with listings of colleges teaching intelligence courses.

AFIO's booklet for high school and college students considering careers
in the U.S. Intelligence Community.
Careers Booklet in PDF Format updated January 2013 available here.
Cannot open some or all of these PDFs? It can mean your PDF viewer is out-of-date.
Use this link to update your viewer to the latest version.
---
Intelligence Community - Six Years in a Row - Named 2014
One of the Best Places to Work in the Federal Government
For the sixth consecutive year, the Intelligence Community (IC) was honored as #4 in the top-ten Best Places to Work in the Federal Government, according to an independent analysis of federal workers' job satisfaction and commitment.
The rankings were compiled by the Partnership for Public Service (PPS) and American University's Institute for the Study of Public Policy Implementation (ISPPI) and announced recently in Washington, D.C. PPS is a nonprofit, nonpartisan organization that aims to attract people to federal careers and improve how the government runs. The institute conducts research and helps federal leaders solve difficult public-policy issues.
The IC ranked fourth overall among large agencies, which includes over 30 organizations, each of which employs more than two thousand people. Rankings are based on data from the 2014 Federal Employee Viewpoint Survey, which the U.S. Office of Personnel Management administers. The first Federal Government survey was in 2003, but the IC has only participated since 2009. Max Stier, president and CEO of the Partnership for Public Service, noted that the IC does not have to participate but does so voluntarily, "which is a credit to them."
To maintain the security of information about its work force, the IC relies on its own survey instrument to assess each year how its workers feel about issues such as job satisfaction, professional development, and the effectiveness of senior leaders. The IC includes several questions from the federal survey in the IC's annual Employee Climate Survey. That way, the Community's information can be compared with that from other organizations.
Other top-five large organization Best Places to Work are: The National Aeronautics and Space Administration and the U.S. Departments of Commerce, State and Justice.
Visit bestplacestowork.org to see which agencies top the rankings and to access trend analysis, demographic data and all 10 workplace categories, as well as generate custom reports and conduct side-by-side comparisons for up to three agencies.
---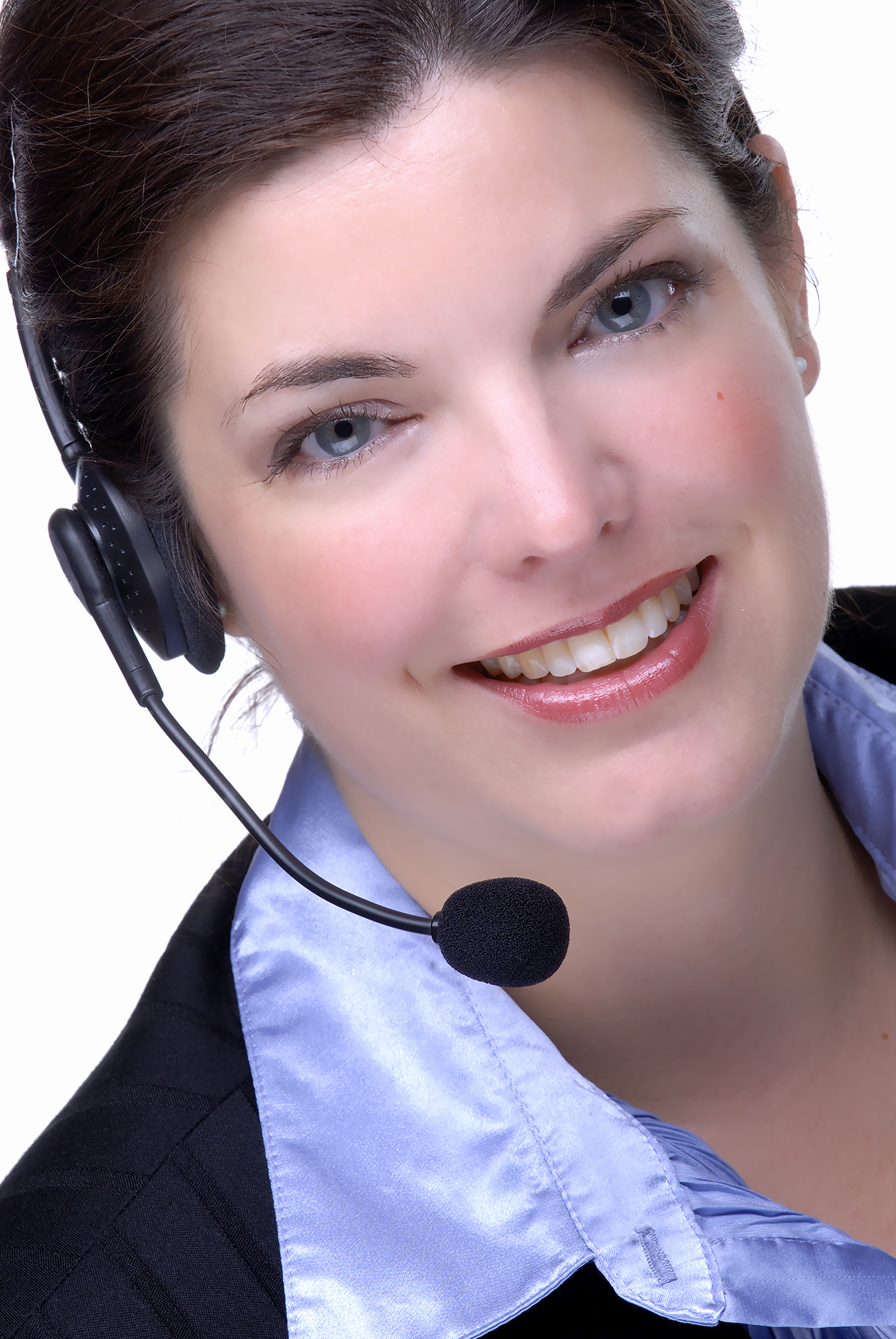 Become a Member
or a Subscriber

Join AFIO or subscribe to our publications and enjoy all our unusual member benefits
JOIN:
As a Member or Subscriber - Use this Online Form
Students, 28 years old or younger, attending a U.S. not-for-profit accredited college, may join 1x at special rate. Email us at afio@afio.com with your info for application and rates.
Agency, University, Foundation, or Corporate Members - use this Online Form or this pdf document.
RENEW:
Renew or Reinstate Your Membership or Subscription here
UPDATE YOUR INFO:
Supply your new Email or Mailing Address here.
---
---
AFIO BOARD OF DIRECTORS' Photos and Public Biographies
---

We Thank These Corporate and Foundation Members
Join as a corporate
or foundation member
---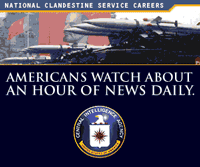 ---
---
---
---
Movies of Interest to AFIO members can be found here.
---

Send your articles and reviews to afio@afio.com for the journal INTELLIGENCER...
This issue mailed to all current members and subscribers on February 9, 2015.

---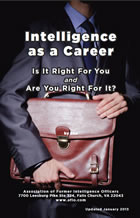 NOW AVAILABLE

Updated for 2013
Intelligence
as a Career

Is It Right For You
AND
Are You Right For It?
Click HERE, or the cover photo above, for the updated version of Careers In Intelligence Booklet.
Released 10 January 2013
---
Donations Needed -
Help AFIO continue our Special Events, Publications, and Speakers Program.
If you are interested in considering a bequest or deferred, income yielding gift such as a charitable annuity (with a lifetime of income to self and/or spouse), please explore our Bequest Booklet below:
Bequest and Deferred Gifts To AFIO
Consider an immediate donation here, of any amount to underwrite the many free talks AFIO Members provide groups across the country.
---
---