The Association of Former Intelligence Officers (AFIO) presents this website to serve our members and visitors as a portal to the activities of AFIO and to provide word of upcoming educational events by other select intelligence groups.
Upcoming AFIO and Intelligence Community Events
Many informative, fascinating programs are occuring in the Washington Metro Area and across the country. Find out which ones to add to your calendar to stay connected and to stay current.

Corporate
Learn how your company can make a difference with AFIO corporate memberships and marketing opportunities. Reach more than 4,800 intelligence professionals.

National Members
Join AFIO or renew your existing membership and enjoy member benefits, such as special invitations to events, unique banking & investment services, scholarships and career assistance.

Publications
Sign up and receive the popular Weekly Intelligence Notes [WINs] and the printed industry journal: Intelligencer - Journal of U.S. Intelligence Studies, 3 issues per year for the intelligence community by intelligence professionals. AFIO also produces Intelligence As A Career - a frequently updated printed and online guide to organizing your life and education to qualify for work in the intelligence community, and a Guide to the Study of Intelligence intended to assist college instructors and secondary school teachers of history, civics, and current events.

About Us
Learn about AFIO - our many events, publications, programs, and legislative alerts. Support AFIO with purchases and donations or meet our members at events throughout the US. Make your views known.

Chapters
Local AFIO Chapters are the heart of AFIO activities for many members, so join AFIO National and then consider adding a local chapter membership to your mix.

Upcoming AFIO and related Organization Educational Events ... Full listings found here

Wednesday, 9 September 2015, 11:30 a.m. - Scottsdale AZ - The AFIO AZ Chapter hosts Patricio Reyes, M.D., on "Traumatic Brain Injury, PTSD, and Major Depression: The Medical Signatures of War on Terror."

Patricio F. Reyes, M.D., FAAN, is currently serves as Chief for the Traumatic Brain Injury & Alzheimer's Disease & Cognitive Disorders Clinics with the Phoenix Veterans Administration Healthcare System.
He also serves as the Director for the Neurology Student and Resident Training Monthly TBI Case Conference at the Phoenix VA Medical Center
and is the Co-Founder-Chief Medical Officer, and Chairman for the Scientific Advisory Board Yuma Therapeutics Inc.
Your RSVP is needed no later than 72 hours ahead of time. The chapter is charged for no-shows and please remember, we are a small organization with a humble coffer!
Fee: $25.00
BADGES: please remember, many of you have been given your badge, if you do not have one please email me with the information you would like on your badge. The cost for a badge with a magnetic strip is $5.00 Full Name; Title (past career, organization, etc).
For reservations or questions, please email Simone@4SmartPhone.net or Simone@AFIOAZ.org or call and leave a message on 602.570.6016

---

11 September 2015, noon-1 p.m. - San Diego, CA - The AFIO SD Chapter hears Matt Miller on "Snapshot of Global Security as of 9/11/2015."

Please mark your calendars for a San Diego AFIO meeting on 9/11/15 from 1200-1300. The distinguished speaker will be Matt Miller, the Private Sector Coordinator at the Law Enforcement Coordination Center. Mr. Miller is an incredibly engaging and knowledgeable speaker with a vast knowledge and career in intel, military operations, and global affairs.

Mr. Miller will present a "Snapshot of Global Security as of 9/11/15," which will cover the threats from global terrorist organizations and state sponsored adversaries.

In addition to Mr. Miller, I am looking to schedule a brief updated on what the SDSU's VizLab has accomplished recently (in the homeland security arena), as well as bring in a speaker on social media exploitation to identify violent extremists (timely given recent identification of such extremists in California).

Lunch will be coordinated so that you can order ahead, and have the meal waiting for you.

I look forward to seeing you all on 9/11/15! RSVP to Alex Carrillo, AFIO San Diego

---

Monday 28 September 2015, 6:30 - 8 p.m. - New York, NY - AFIO Metro NY Chapter hears former FBI Special Agent Edward M. Stroz on "Impact of Edward Snowden on U.S. Security and Cyber Warfare."

Speaker Edward Stroz, former FBI, now with the NYC-based firm of Stroz Friedberg, a global leader in investigations, intelligence, and risk management. Topic and registration details to follow in coming weeks. He will speak on Edward Snowden - His impact on American security and cyber warfare. Mr. Stroz will speak about why information security is such a vexing goal and how insider threats are being addressed today.
Stronz was a Special Agent for the FBI before founding Stroz Friedberg in 2000. He is an expert on electronic evidence and investigations, internet extortions, denial of service attacks, computer hacking, insider abuse, theft of trade secrets, electronic discovery matters, and regularly provides expert testimony on these matters. Mr. Stroz pioneered the use of behavioral science in investigations to gain insights about intent and state-of-mind of computer users. He has supervised hundreds of forensic assignments in assisting corporate clients, trial counsel, individuals, and has conducted security assessments for major public and private entities. While at the Bureau, Stroz was responsible for the formation of the FBI's Computer Crime Squad in New York City, where he supervised investigations involving computer intrusions, denial of service attacks, illegal Internet wiretapping, fraud, and violations of intellectual property rights, including trade secrets.
Location: Society of Illustrators building, 128 E 63rd St, between Park Ave and Lexington Ave.
COST: $50/person Cash or check, payable at the door only. Dinner to follow talk & Q&A. Cash bar. RESERVATIONS: Strongly suggested, not required, Email Jerry Goodwin afiometro@gmail.com or phone 646-717-3776.

---

NEW....

NEW: AFIO's Intelligence Community Mousepad

Full color seals of all 18 members of the U.S. Intelligence Community on this 8" round, slick surface, nonskid, rubber-backed mouse pad. Price: $20.00 for 2 pads [includes shipping to U.S. based address, only. For foreign shipments, we will contact you with a quote.] Great gift for colleagues and self. Click image above for larger image.

Wednesday, 9 September 2015, 11 a.m. - Albuquerque, NM - The AFIO New Mexico Chapter meets to hear Eric Burkhart

Mr. Eric Burkhart is a retired CIA Officer living in Texas, where there is—remarkably—no AFIO Chapter. Texas' void is our gain, as Mr. Burkhart has volunteered to travel here to speak to our group in September. Fortunately, Mr. Burkhart recently retired following a successful career as a CIA Case Officer. He spent most of his career in war zones, including Iraq, Kosovo, and various locations in Africa. He will discuss his book about his career as an intelligence officer. The book is Mukhabarat, Baby! Mortars, WMD, Mayhem and Other - Memoirs of a Wartime Spy - A CIA Spy Memoir available at here.
Location: "The Egg & I", 6909 Menaul Blvd (just East of Louisiana)
Registrations to Pete Bostwick (505) 898-2649 foreigndevil@yahoo.com or to Mike Ford (505) 294-6133 Secpro39@yahoo.com

---

Saturday 12 September 2015 - Melbourne, FL - AFIO Florida Satellite Chapter hears a speaker from the American Security Council Foundation

Brigadier General Donald B. Smith, Chairman of the Board of the American Security Council Foundation will be on hand to address us on the history of the American Security Council and the ASCF with emphasis on the Step Up America Program, "The Call to Good Citizenship." The American Security Council Foundation (ASCF) was formed in 1958, and was originally known as the Institute for American Strategy. For almost 50 years the Foundation has focused on a wide range of educational programs which address critical challenges to U.S foreign policy, national security and the global economy.
Location: Indian River Colony Club, 1936 Freedom Drive, Melbourne, FL 32962, 12 noon.
Reservations Required: contact John Noble, Melbourne Police Department, 701 South Babcock Street, Melbourne, FL 32935, phone 321-409-2262

---

Thursday, 17 September 2015, 1130 hours - Denver, CO - The AFIO Rocky Mountain Chapter presents "A Tour of the Disaster Management Institute and Center for Simulation."

The Rocky Mountain Chapter presents A Tour of the Disaster Management Institute and Center for Simulation located at the Community College of Aurora. The Center for Simulation is recognized as the first in the US to create simulation environments, which include but are not limited to, a home, bar and street for training first responders. The facility also houses the Disaster Management Institute, a fully-functional Emergency Operations Center that allows students and working professionals to experience and train in management of simulated disasters of all types and sizes.
Numerous Homeland Security compliant exercises have been held here. Hundreds of agencies at the local, state and federal levels as well as national guard assets find value in training at CCA's Center for Simulation and/or Disaster Management Institute. Preparedness exercises have spanned: terrorists, rogue bombers, WMDs, Hazmat and hostage crises, among others. The exercises scope is determined by objectives which dictates if the exercise will be microscopic and/or macroscopic, in scale and size. As the center's capabilities are easily diversified scenarios are planned ranging from Tabletops, drills or full scale exercises which sometimes take years to plan.
Please RSVP to Tom VanWormer at robsmom@pcisys.net
The cost of the meal is $12. If you have any questions please feel free to contact Tom.
Directions to the DMI facility from I-225: Take 225 to 6th Avenue and go West to Dayton. At Dayton go right or North one long city block to the first left. Turn left here into the park. Follow to the stop sign. Pull through the stop sign and park. Building is on the right. 9235 E 10th Dr, Denver, CO 80230.

---

16 November 2015, 12:30 pm - Los Angeles, CA - The AFIO - LA Chapter luncheon meeting with LA County Sheriff Jim McDonnell on Communications between Law Enforcement and Intelligence Agencies

Los Angeles County Sheriff Jim McDonnell will be the guest speaker for our November 2015 AFIO-L.A. Meeting. Sheriff McDonnell will be discussing the topic of improved communication between local law enforcement agencies and federal intelligence agencies, since September 11th and the role the Joint Terrorism Task Force (JTTF) played in improving mutual cooperation and shared gathered intelligence.
Bio of Sheriff Jim McDonnell
On December 1, 2014, Jim McDonnell took the oath of office and was sworn in as the 32nd Sheriff of Los Angeles County, the nation's largest sheriff's office and the seventh largest law enforcement agency in the United States, with 16,400 members and 400 reserve deputies.
Sheriff McDonnell served for 29 years at the Los Angeles Police Department, where he held every rank from Police Officer to second-in-command under Chief Bill Bratton. During his time at the LAPD, he earned that Department's highest honor for bravery, the Medal of Valor, and led LAPD through the implementation of significant reforms. He helped create the blueprint for LAPD's community-based policing efforts that have now become a model for law enforcement agencies throughout the nation.
For five years, Sheriff McDonnell served as the Chief of the Long Beach Police Department. In that role, he implemented numerous improvements that resulted in safer communities, increased morale, and enhanced community relations.
Sheriff McDonnell holds a Bachelor of Science degree in Criminal Justice from St. Anselm College in Manchester, New Hampshire and a Master's Degree in Public Administration from the University of Southern California. He is also a graduate of the Federal Bureau of Investigation's National Executive Institute and has completed executive education programs at Harvard's Kennedy School of Government.
TO REGISTER: Lunch will be served for this event, please note the event is taking place on a Monday, more details to follow. Inquiries to AFIO_LA@yahoo.com.

---

Teaching -- or Seeking to learn more -- about the world of Intelligence?

AFIO's Guide to the Study of Intelligence
Are You Using It?
The Guide consists of more than 66 articles on all aspects of intelligence. It is intended to help instructors become familiar with intelligence-related subjects. Guide articles, written by both academic experts and seasoned practitioners, are introductions to the subject with recommended readings for further study.
Guide articles appear in AFIO's journal Intelligencer and as PDFs on our website here.
They are free for academic use.

For a complete list of what articles are available at this time, view this pdf.

OTHER IMPORTANT UPCOMING EDUCATIONAL EVENTS....

16-20 September 2015 - Washington, DC - Spies, Lies and Intelligence: The Shadowy World of International Espionage

Program #16126RJ $1,099. 5 Days, 4 Nights.
Every person sitting on a bench could be waiting for the next drop-off. Behind every monument, a mole may harbor national secrets. On this fascinating adventure at the front line of the world's spy coterie in Washington, D.C., delve into the treachery of Aldrich Ames and Robert Hanssen — rogues who triggered devastating consequences to America. Learn the art of espionage, discuss the role of intelligence in an open society, and hear how the U.S. catches spies in the heart of the world capital of intrigue.

Highlights
• Retired intelligence experts take you into their seamy world, uncovering Washington, D.C.'s lesser-known spy history and discussing famous spy cases — from the cracked to the unsolved.
• Explore the International Spy Museum, and learn from the NSA's Cryptologic Museum how codes are broken — and try out a WW II German Enigma machine.
• Hear from a polygraph specialist, examine the role of defection in counterintelligence, and examine 21st century intelligence threats.


Activity Notes
Minimal walking, standing in museums for up to two hours. 4 nights of accommodations, 10 meals: 4 breakfasts, 3 lunches, 3 dinners
7 Expert-led lectures, 3 Field trips

Coordinated by Road Scholar. Call 800-454-5768 or explore here.

---

21 October 2015 - Laurel, MD - 17th National Cryptologic Museum Foundation General Membership Meeting on "The Changing Face of Terrorism."

Registration is now open for the 17th NCMF General Membership Meeting & Symposium on 21 October 2015 in Laurel, MD. The theme for this year's event is "The Changing Face of Terrorism," and the program will feature guest speakers, including keynote speaker Mr. Robert Grenier, author of 88 Days to Kandahar. The program will also include a tribute to NCMF friend and former Chairman of the BoD Lt Gen Lincoln D. Faurer. Registration includes breakfast and lunch. Registration fees are $30 for NCMF members and $50 for non-members (includes a one-year complimentary NCMF membership). Registration deadline is 16 October.Remember, this year the Annual Meeting coincides with the Cryptologic History Symposium (event details here). More information on the NCMF Membership event is here. Or do not wait and Register HERE for both and enjoy multiple days of cryptology!

---

Tuesday, 29 September 2015, noon - Washington, DC - Jason Hanson - Spy Secrets That Can Save Your Life at the International Spy Museum

Jason Hanson is a former CIA officer, security specialist, and recent successful contestant of ABC's reality show Shark Tank. Jason teaches everyday citizens to defend themselves at his Spy Escape and Evasion school. He has been interviewed by major media outlets for his security expertise, including The Wall Street Journal, Fox News and The Huffington Post. He currently lives in Cedar City, Utah, with his family.

When Jason Hanson joined the CIA in 2003, he never imagined that the same tactics he used as a CIA officer for counter intelligence, surveillance, and protecting agency personnel would prove to be essential in everyday civilian life.

In addition to escaping handcuffs, picking locks, and spotting when someone is telling a lie, he can improvise a self-defense weapon, pack a perfect emergency kit, and even disappear off the grid if necessary. He has also honed his "positive awareness"--a heightened sense of his surroundings that allows him to spot suspicious and potentially dangerous behavior--on the street, in a taxi, at the airport, when dining out, or in any other situation.

In this engaging book, Hanson shares this know-how with readers, revealing how to: prevent home invasions, carjackings, muggings, and other violent crimes; run counter-surveillance and avoid becoming a soft target; recognize common scams at home and abroad; become a human lie detector in any setting; gain peace of mind by being prepared for anything instead of uninformed or afraid.

With the skill of a trained operative and the relatability of a suburban dad, Hanson brings his top-level training to everyday Americans in this must-have guide to staying safe in an increasingly dangerous world.
Tickets: FREE! No reservation required. Visit www.spymuseum.org

Friday, 25 September 2015, 6:30pm - Washington, DC - Annie Jacobsen - The Pentagon's Brain. An Uncensored History of DARPA, America's Top-Secret Military Research Agency at the International Spy Museum

The Defense Advanced Research Projects Agency (DARPA) is the radical force behind the nation's most revolutionary, high-tech military initiatives over the past half century. To write the first definitive history of the world's most powerful and productive military science agency, bestselling author Annie Jacobsen tracked down DARPA scientists, past and present, including current neuroscientists building an artificial brain, cell biologists working on limb regeneration, and even the Nobel Laureate who invented the laser. From conflict-tested science experiments, like Agent Orange and electronic barriers on the battlefield during Vietnam, to War on Terror insect drones, smart rockets, camera-filled war zones and advanced computer programs, she tracks DARPA from its Cold War inception to present day research controversies. Jacobsen will share her journey to the heart of the military-industrial complex-a place where science fiction and military science meet-and will reveal a future that is fascinating and potentially frightening.
Tickets: FREE! No reservation required. Visit www.spymuseum.org

Tuesday, 29 September 2015, 7-10 pm - Washington, DC - Dinner with a Spy - An Evening with Jon Monett at the International Spy Museum

A passion for developing and using cutting edge technology has taken Jon Monett from Cold War warrior to successful entrepreneur to 21st century philanthropist. Monett served more than 26 years at the CIA in the Office of Technical Services (OTS), initially as a technical operations specialist and ultimately becoming responsible for managing the CIA's technical activity worldwide. OTS is where technological innovations are launched and operationally deployed—not just where gadgets are made, but where the stuff of science fiction becomes reality.

When he retired, Monett started the global security consulting and intelligence advisory services company Telemus Solutions. After selling Telemus he wanted to use his technological background to support wounded warriors; in 2008 he established Quality of Life Plus at Cal Poly in San Luis Obispo, California to foster and generate innovations to aid and improve the quality of life of those injured in the line of duty. At this gathering, International Spy Museum Executive Director Peter Earnest will lead a conversation with Monett about the technological advances in intelligence operations that he's been involved with, and cover everything from Monett's days participating in technical operations to his thoughts on cyber-terrorism and his current philanthropic application of fostering innovation. You will be one of only twelve guests at nopa Kitchen+Bar for this three-course dinner.
Tickets: $300* includes hors d'oeuvres and three-course dinner with wines. Reservations can be made at www.spymuseum.org

---

14 October 2015, 6 - 9 pm - Arlington, VA - Silver Anniversary Gala and Chancellor's Dinner by Institute of World Politics

Since its founding, IWP has grown into the nation's premier graduate school dedicated to developing leaders with a sound understanding of international realities and the ethical conduct of statecraft, based on knowledge and appreciation of the founding principles of the American political economy and the Western moral tradition.
Location: The Ritz-Carlton, Pentagon City, 1250 South Hayes St, Arlington, VA 22202
Sponsorship & Tickets: For information on sponsorship opportunities and ticket purchases, please contact Jennifer Giglio at 202.462.2101 ext. 312 or jgiglio@iwp.edu.
Accommodations: A limited room block held at The Ritz-Carlton, Pentagon City is available at the rate of $269 per night.
To make your reservation, please click here. Input the Arrival Date, Departure Date and Group Code: WPGWPGA.
To make your reservation, by phone, please call 1.800.241.3333. Reference the Group Name: The Institute of World Politics
Schedule of Events: 6:00 pm Cocktail Reception, 7:00 pm Dinner and Program
Keynote Speaker: Lt. Gen. Michael T. Flynn, USA (Ret.), 18th Director of the Defense Intelligence Agency
Entertainment: Keni Thomas, Award winning Nashville singer-song writer and a decorated combat veteran with the elite 75th Ranger Regiment special operations unit.
Attire: Black Tie or Military Dress Equivalent
Guests: An estimated 500 guests will gather to celebrate 25 years of The Institute of World Politics' accomplishments and inspire the next generation of leaders. The event will bring together national and international civic and business leaders, members of Congress, and IWP supporters to reflect on the work of the Institute.
Questions to Jennifer E. Giglio at JGiglio@iwp.edu.
NOW AVAILABLE
Getting a Security Clearance: Questions and Answers about what they are, how they are conducted,
how you can qualify, how long they take, and what can put them in jeopardy.

Two valuable booklets are now available
The Security Clearance Process: Answers to Frequently Asked Questions - by the Congressional Research Service, Sept 2013
[PDF]
Security Clearances - FAQs - ClearanceJobs.com / DICE
[PDF]
---
Intelligence as a Career -with listings of colleges teaching intelligence courses.

AFIO's booklet for high school and college students considering careers
in the U.S. Intelligence Community.
Careers Booklet in PDF Format updated January 2013 available here.
Cannot open some or all of these PDFs? It can mean your PDF viewer is out-of-date.
Use this link to update your viewer to the latest version.
---
Intelligence Community - Six Years in a Row - Named 2014
One of the Best Places to Work in the Federal Government
For the sixth consecutive year, the Intelligence Community (IC) was honored as #4 in the top-ten Best Places to Work in the Federal Government, according to an independent analysis of federal workers' job satisfaction and commitment.
The rankings were compiled by the Partnership for Public Service (PPS) and American University's Institute for the Study of Public Policy Implementation (ISPPI) and announced recently in Washington, D.C. PPS is a nonprofit, nonpartisan organization that aims to attract people to federal careers and improve how the government runs. The institute conducts research and helps federal leaders solve difficult public-policy issues.
The IC ranked fourth overall among large agencies, which includes over 30 organizations, each of which employs more than two thousand people. Rankings are based on data from the 2014 Federal Employee Viewpoint Survey, which the U.S. Office of Personnel Management administers. The first Federal Government survey was in 2003, but the IC has only participated since 2009. Max Stier, president and CEO of the Partnership for Public Service, noted that the IC does not have to participate but does so voluntarily, "which is a credit to them."
To maintain the security of information about its work force, the IC relies on its own survey instrument to assess each year how its workers feel about issues such as job satisfaction, professional development, and the effectiveness of senior leaders. The IC includes several questions from the federal survey in the IC's annual Employee Climate Survey. That way, the Community's information can be compared with that from other organizations.
Other top-five large organization Best Places to Work are: The National Aeronautics and Space Administration and the U.S. Departments of Commerce, State and Justice.
Visit bestplacestowork.org to see which agencies top the rankings and to access trend analysis, demographic data and all 10 workplace categories, as well as generate custom reports and conduct side-by-side comparisons for up to three agencies.
---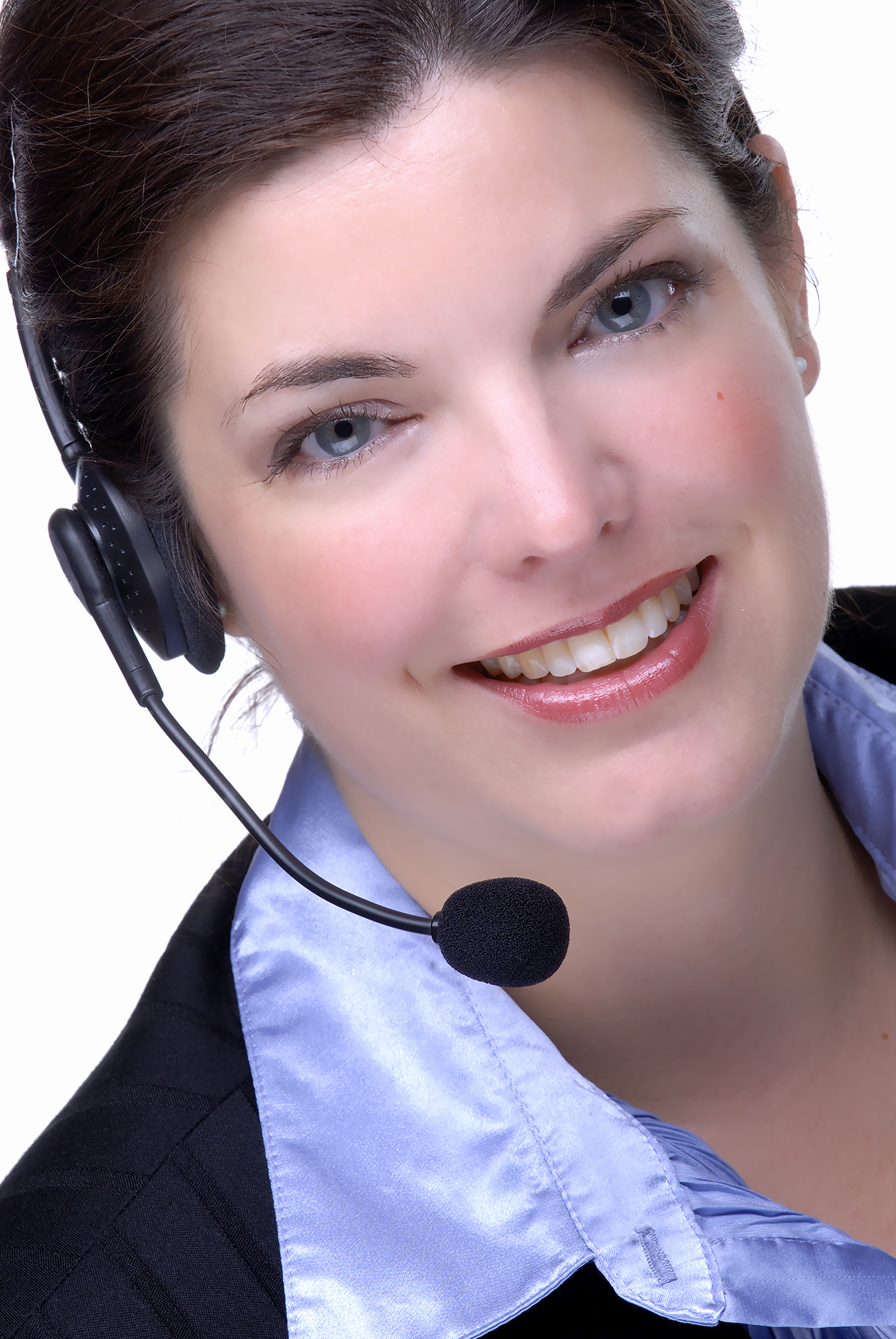 Become a Member
or a Subscriber

Join AFIO or subscribe to our publications and enjoy all our unusual member benefits
JOIN:
As a Member or Subscriber - Use this Online Form
Students, 28 years old or younger, attending a U.S. not-for-profit accredited college, may join 1x at special rate. Email us at afio@afio.com with your info for application and rates.
Agency, University, Foundation, or Corporate Members - use this Online Form or this pdf document.
RENEW:
Renew or Reinstate Your Membership or Subscription here
UPDATE YOUR INFO:
Supply your new Email or Mailing Address here.
---
---
AFIO BOARD OF DIRECTORS' Photos and Public Biographies
---

We Thank These Corporate and Foundation Members
Join as a corporate
or foundation member
---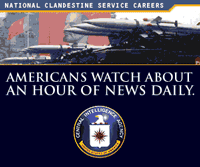 ---
---
---
---
Movies of Interest to AFIO members can be found here.
---

Send your articles and reviews to afio@afio.com for the journal INTELLIGENCER...
This issue mailed to all current members and subscribers on 08 August 2015.

---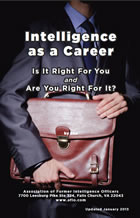 NOW AVAILABLE

Updated for 2013
Intelligence
as a Career

Is It Right For You
AND
Are You Right For It?
Click HERE, or the cover photo above, for the updated version of Careers In Intelligence Booklet.
Released 10 January 2013
---
Donations Needed -
Help AFIO continue our Special Events, Publications, and Speakers Program.
If you are interested in considering a bequest or deferred, income yielding gift such as a charitable annuity (with a lifetime of income to self and/or spouse), please explore our Bequest Booklet below:
Bequest and Deferred Gifts To AFIO
Consider an immediate donation here, of any amount to underwrite the many free talks AFIO Members provide groups across the country.
---
---