The Association of Former Intelligence Officers (AFIO) presents this website to serve our members and visitors as a portal to the activities of AFIO and to provide word of upcoming educational events by other select intelligence groups.
---
Wednesday, 3 December 2014
10 am to 1 pm
Lunch served noon to 1 pm.
National Cryptologic Museum Foundation's
Fourteenth Annual Pearl Harbor Commemoration Lecture Series
features scholar John Gordon on

Fighting for MacArthur: The Navy and Marine Corps' Desperate Defense of the Philippines [2011: U.S. Naval Institute Press]
Drawing on a rich collection of both American and Japanese sources as well as official records and wartime diaries, Gordon chronicles the Americans' desperate defense of the besieged islands - Bataan and on the island fortress of Corregidor - where they performed some of their most unusual missions of the entire Pacific War. Of special interest to intelligence officers will be Gordon's discussion at this event of General MacArthur's disregard of intelligence reports that cost him his air force and critical supplies for the defense of Bataan and Corregidor and also further insights regarding the contributions by the U.S. intercept station located on "The Rock."
Sailors fought as infantrymen alongside their Marine comrades at Bataan and on the island fortress of Corregidor. Sailors also manned Army heavy coast artillery batteries during the epic artillery duel between Corregidor and the Japanese guns that were massed on Bataan following the fall of the Peninsula. In these pages, Gordon recounts the only time in history when the Marine Corps lost a regiment in combat when the 4th Marines surrendered on Corregidor, and includes the most detailed account of the attack on Cavite ever published.
Location: L-3 Conference Center, 2720 Technology Drive, Annapolis Junction, MD 20701, Tel 301-575-3200.

RSVP: Contact Mary J. Faletto, Senior Administrator, National Cryptologic Museum Foundation, Office: 301-688-5436
Cell: 443-250-8621 or email: cryptmf@aol.com
or visit www.cryptologicfoundation.org

Upcoming AFIO and Intelligence Community Events
Many informative, fascinating programs are occuring in the Washington Metro Area and across the country. Find out which ones to add to your calendar to stay connected and to stay current.

Corporate
Learn how your company can make a difference with AFIO corporate memberships and marketing opportunities. Reach more than 4,800 intelligence professionals.

National Members
Join AFIO or renew your existing membership and enjoy member benefits, such as special invitations to events, unique banking & investment services, scholarships and career assistance.

Publications
Sign up and receive the popular Weekly Intelligence Notes [WINs], and the printed industry journal: Intelligencer - Journal of U.S. Intelligence Studies, 3 issues per year for the intelligence community by intelligence professionals. AFIO also produces Intelligence As A Career - a frequently updated printed and online guide to organizing your life and education to qualify for work in the intelligence community, and a Guide to the Study of Intelligence intended to assist college instructors and secondary school teachers of history, civics, and current events.

About Us
Learn about AFIO - our many events, publications, programs, and legislative alerts. Support AFIO with purchases and donations or meet our members at events throughout the US. Make your views known.

Chapters
Local AFIO Chapters are the heart of AFIO activities for many members, so join AFIO National and then consider adding a local chapter membership to your mix.

Upcoming AFIO and related Organization Educational Events ... Full listings found here

Wednesday, 3 December 2014, 6 p.m. - Las Vegas, NV - The AFIO LV Chapter meets to hear Col. John Alexander on "Belief Systems and Intelligence Analysis: The Blinders."

Please join us at 5 p.m. in the "Texas Star Oyster Bar" for liaison and beverages followed by dinner in the Conference Center starting at 5:30pm.
Our featured speaker for the evening will be: Col John B. Alexander, Ph.D. on Belief Systems and Intelligence Analysis: The Blinders

What if the universe is not built the way you think it is? All intelligence analysis is colored by the belief systems of the analysts involved and to a large extent the agency itself. This unique presentation will present firsthand evidence that our model of the universe is either wrong, or at least seriously flawed. It will also address how other societies incorporate alternative explanations for events in ways that are beneficial to them. We continue to adhere to the blinders at our own peril. The intent of the presentation is to make intelligence analysts more aware of their personal and organizational constraints, thus making them more effective in observing and reporting anomalies that can have significant impact on national security.
LOCATION: Conference Center at Texas Station Casino, 2101 Texas Star Lane, (corner of Rancho Blvd. and West Lake Meade Blvd.) North Las Vegas, NV 89032. Includes full holiday dinner.
RSVP: email Mary Bentley (marysinvegas@centurylink.net) or call 702-295-0417. We look forward to seeing you!

---

18 December 2014, 11:30 am - 2 pm - San Francisco, CA - AFIO San Francisco Chapter hosts Russell Berman, Sr Fellow Hoover Institution, on "Freedom or Terror: Europe Faces Jihad"

The AFIO James Quesada Chapter hosts Russell A. Berman, Senior Fellow at Hoover Institution, a member of the working group on Islamism and the International Order and author of Freedom or Terror: Europe Faces Jihad and Anti-Americanism in Europe: A Cultural Problem. 11:30AM no host cocktails; meeting starts at noon. United Irish Cultural Center, 2700 45th Avenue, SF (between Sloat/Wawona). RSVP required by 12/1/14 to Mariko Kawaguchi: e-mail afiosf@aol.com and mail check made out to "AFIO" to: Mariko Kawaguchi, P.O. Box 117578, Burlingame, CA 94011. Members and students: $25; non-member guests $35 (must be accompanied by member).

---

Friday, 16 January 2015, 4:30 pm - Washington, DC - "How to Prepare for a Foreign Intelligence Post: Preventing Mirror-Imaging" by James R. Hughes, President of AFIO National

You are cordially invited to a lecture on the topic of "How to Prepare for a Foreign Intelligence Post: Preventing Mirror-Imaging" with James R. Hughes, incoming AFIO President, (his term begins January 2015)
James R. HUGHES is beginning his service as AFIO's 17th President in January 2015. He had a career of US Government service, spanning 37 years in numerous foreign countries with a particular focus in the Middle East. He started in U.S. Military Intelligence in the late 1960s and then joined the CIA's Clandestine Service. He served overseas as a Chief of Station several times, and at CIA Headquarters in a number of senior management positions, including as Chief of the Near East and South Asia Division, in the Directorate of Operations [today's National Clandestine Service]. He was also named the Associate Deputy Director of Operations (ADDO) at the National Security Agency, 1998-99.
Following his retirement from the government in 2005, he joined EDS in Herndon, Virginia, as the Client Industry Executive for the U.S. Intelligence Community. After the HP acquisition of EDS, he continued to serve in a similar capacity until his retirement in 2012.
His parents were missionaries in Turkey in the 1950s, where Jim spent his formative years. He attended the prep schools of two of the most famous missionary-founded universities in the Middle East: Robert College in Istanbul and the American University-Beirut, in Beirut, Lebanon. He is fluent in Arabic, and has extensive knowledge of, and appreciation for, the arts, geography, culture, and religions of that region.
He has been an AFIO member since 2005 and joined the board in 2009.
Event location: The Institute of World Politics, 1521 16th St NW, Washington, DC 20036.
For Parking, consult this map.
RSVP: Contact sdwyer@iwp.edu with any questions.

Tuesday, 9 December 2014 - MacDill AFB, FL - The AFIO Suncoast Chapter hosts MajGen Michael Ennis, USMC(R), former DD/National Clandestine Service, CIA, speaking on field intelligence experiences

MajGen Michael E. Ennis USMC (ret), a career military intelligence officer, is the Enterprise Risk Management officer at Leidos Corporation (formerly Science Applications International Corporation [SAIC]), a Fortune 500 Defense contracting company. In this capacity, he reviews high profile contracts to assess their potential to present significant reputational, legal or operational risk to the company. Prior to joining SAIC in 2008, MajGen Ennis spent 9 years in various high level intelligence assignments including nearly 3 years at CIA serving as the first Deputy Director of the National Clandestine Service for Community HUMINT.
General Ennis will be relating his career experiences and providing his perspective on how the field of intelligence has evolved and where it is heading.
LOCATION: MacDill AFB Surf's Edge Club, 7315 Bayshore Blvd, MacDill AFB, FL 33621. Please RSVP to the Chapter Secretary no later than Wednesday, July 2, for yourself and include the names and email addresses of any guests. Email or call Michael Shapiro at michaels@suncoastafio.org, the Chapter Secretary. You will receive a confirmation via email. If you do not, contact the Chapter Secretary to confirm your registration. Check-in at noon; opening ceremonies, lunch and business meeting at 1230 hours, followed by our speaker.
FEE: You must present your $15 check payable to "Suncoast Chapter, AFIO" (or cash) at check-in to cover the luncheon. If you make a reservation, don't cancel and get a cancellation confirmation by the response deadline and then don't show up, you will be responsible for the cost of the luncheon.

---

Monday, 8 December 2014, 5:30 - 8 pm - New York, NY - The AFIO NY Metro Chapter discusses "Nuclear Weapons in the 21st Century."

Four Star General Eugene Habiger, USAF(Ret), former Commander in Chief US Strategic Command ( 35 years) was responsible for national security & nuclear operations. He also served 150 combat missions in Vietnam.
He will be discussing with us: Nuclear Weapons in the 21st Century.
SPACE IS LIMITED TO 90. Registration for this important event is on a first come basis.
Capacity is 90 attendees maximum so Reservations are required. You must cancel prior to Thursday December 4th or payment will be due.
Location: Society of Illustrators building: 128 E 63rd St, NYC, 3rd floor.
Time: Registration 5:30 PM, Meeting Start 6:00 PM
Cost: $50/person only by pre-registration. Payable at the door only, cash or check. Buffet dinner following talk/Q&A. Cash bar.
Register with Jerry Goodwin 646-717-3776 or by email: afiometro@gmail.com

---

14 December 2014, 11 a.m. - 2 p.m. - Euclid, OH - AFIO Ohio Chapter hosts Jim Frohlking discussing WWII Resistance Operations

Jim Frohlking was an Army Air Force fighter pilot during WWII. He flew 56 missions, including 6 over Omaha Beach on D-Day, in P-38's and P-51's. He was hit by flack on his 56th mission and bailed out over Holland into water. Jim was picked up by a Dutch fishing boat and delivered to the Dutch resistance, who eventually got him back to the Allied lines. His talk will be about his experiences with the resistance and return to the Allies.
Location: Through the courtesy of member Greg Moore and Notre Dame College we will have the Great Room on the 3rd floor of the Administration Building at Notre Dame College, 4545 College Rd., South Euclid, Ohio 44121. The Great Room is located at the east end of the 3rd floor and is clearly marked.
We will have a deli tray and coffee. RSVP to hp34063@yahoo.com by the 10th of December. We look forward to seeing everyone. - John

---

Friday, 30 January 2015 - Tysons Corner, VA - AFIO National's first luncheon of 2015 starts the new year with a new Director of the National Geospatial-Intelligence Agency (NGA) -- Robert T. Cardillo -- on the expanded mission of NGA from Ebola relief activities to providing tools, advanced tech, sophisticated techniques, and specialized expertise to policymakers, warfighters, intelligence analysts, and first responders. Morning speaker TBA.

Timing: Check-in for badge pickup at 10:30 a.m.; TBA begins presentation at 11 a.m.; Lunch served at noon; NGA Director Cardillo begins his presentation at 1:05 pm. Event closes at 2 p.m.
Morning and Afternoon programs are On The Record

The latest intelligence books, and many others, on display and for sale throughout event.

EVENT LOCATION: The Crowne Plaza, 1960 Chain Bridge Rd, Tysons Corner, VA
Driving directions here or use this link: http://tinyurl.com/boey9vf
Early registrations accepted HERE

OTHER IMPORTANT UPCOMING EDUCATIONAL EVENTS....

2, 4, 9 and 16 December 2014, 5 - 8 pm - Reston, VA - Course dates for taking Globalytica's online professional certificate course for intelligence analysts: Diagnostic Structured Analytic Techniques (DSAT)

Duration: Four 3-hour evening sessions—5:00-8:00PM EST
Platform: Courses are taught exclusively online using Globalytica's avatar-based 3D virtual training world, TH!NK Live™.
Globalytica, the thought leader in analytic techniques, presents its latest online professional certificate course: Diagnostic Structured Analytic Techniques (DSAT). This is course is designed for analysts interested learning techniques to help uncover information gaps and inform future research design.

The DSAT certificate course provides students with a set of analytic tools and techniques to help formulate and refine ideas about what has happened or is currently occurring. Students will:
• Learn to identify the dynamics at play in an issue or problem.
• Practice reframing issues to understand better how forces or elements might combine to generate different outcomes in the future.
**Register before November 21st to receive 50% off the regular course price.**
For more information and to register, visit http://www.globalytica.com/dsat/
Cindy Jensen | Marketing Associate | Pherson Associates, LLC
Instilling Rigor and Imagination in Analysis
1892 Preston White Dr. Suite 300, Reston, VA 20191 , phone: 703-390-9943 | fax: 703-390-9955 | email: cjensen@pherson.org

---

Friday, 5 December 2014, 4 pm - Washington, DC - "Pearl Harbor Day and the Current Security Environment" by David Glancy at the Institute of World Politics

You are cordially invite you to attend the nineneenth annual Pearl Harbor Day Lecture on the topic of "Pearl Harbor Day and the Current Security Environment" by David Glancy at the Institute of World Politics. Glancy is Professor of Strategy and Statecraft, IWP.
RSVP here.
Event location: The Institute of World Politics, 1521 Sixteenth St NW, Washington, DC. Parking map here.

---

Wednesday, 07 January 2015, 12:00pm-7:00pm - Washington DC. - "Iran-Contra: Reagan's Scandal and the Unchecked Abuse of Presidential Power" claims author Malcolm Byrne at International Spy Museum

Through exhaustive use of declassified documents, previously unavailable investigative materials, and wide-ranging interviews, Malcolm Byrne explores what made the Iran-Contra scandal possible and meticulously relates how it unfolded—including clarifying minor myths about cakes, keys, bibles, diversion memos, and shredding parties. Byrne, the Deputy Director and Research Director at the National Security Archive, demonstrates that the affair could not have occurred without awareness and approval at the top levels of the US government. He reveals an unmistakable pattern of dubious behavior—including potentially illegal conduct by the president, vice president, the secretaries of state and defense, the CIA director and others—that formed the true core of the scandal.

Tickets: Free! No registration required. Visit www.spymuseum.org

Friday, December 5, 2014 from 8:00 a.m. – 3:30 p.m. The Professional Security Studies Department at New Jersey City University will hold its 4th Northeast Regional Security Education Symposium.

The topic of this year's Symposium is Investing in America's Security: Policy/Resource Issues. The Symposium's keynote address will be delivered by Ambassador (Retired) Clay Constantinou. Featured speakers include Joseph Picciano, P.E., Deputy Director, New Jersey Office of Homeland Security & Preparedness; Hon. Michael Balboni, President and Managing Director of RedLand Strategies, Inc. and Former New York State Senator and Deputy Secretary of Public Safety; and Dr. Michael J. Chumer, Research Professor, NJIT and Academic Advisor, NJCU D.Sc. Students pursuing their D.Sc. degree will present posters overviewing their research and the program's faculty will hold a panel discussion.

Reserve your spot and purchase a ticket by calling Ms. Denise Melendez at (201) 200-2275, or by sending a check payable to NJCU Professional Security Studies Department, 2039 John F. Kennedy Blvd., Jersey City, NJ 07305-1597. A limited number of tickets are available at the door on the day of the Symposium. Symposium attendance is $30 per person. Purchase Tickets at this link.

Questions to: JOHN W. COLLINS, JR., CPP, Ed.D., Chairperson, Professor, and DSc Program Coordinator at jcollins2@njcu.edu.

---

Thursday, 29 January 2015, 6:30pm-7:00pm - Washington DC - "88 Days to Kandahar: A CIA Diary" by Robert Grenier, for CIA COS, at the International Spy Museum

When President George W. Bush approved the first American-Afghan War, Robert Grenier, the CIA station chief in Islamabad from 1999-2002, found himself directing it. Grenier launched the "southern campaign," orchestrating the final defeat of the Taliban and Hamid Karzai's rise to power in eighty-eight chaotic days. Join Grenier for the launch of his book 88 Days to Kandahar, to hear more about this critical time and the crucial players: General Tommy Franks, who balked at CIA control of "his" war; General Jafar Amin, a gruff Pakistani intelligence officer who saved Grenier from committing career suicide; and Pakistan's brilliant ambassador to the US, Maleeha Lodhi; among others. Grenier, in addition to being a highly decorated retired officer in the CIA's clandestine service, is also a renowned Middle East expert, who was deputy national intelligence officer for the Near East and South Asia, and former Director of the CIA's Counterterrorism Center.

Tickets: $10. Register at www.spymuseum.org
NOW AVAILABLE
Getting a Security Clearance: Questions and Answers about what they are, how they are conducted,
how you can qualify, how long they take, and what can put them in jeopardy.

Two valuable booklets are now available
The Security Clearance Process: Answers to Frequently Asked Questions - by the Congressional Research Service, Sept 2013
[PDF]
Security Clearances - FAQs - ClearanceJobs.com / DICE
[PDF]
---
Intelligence as a Career -with listings of colleges teaching intelligence courses.

AFIO's booklet for high school and college students considering careers
in the U.S. Intelligence Community.
Careers Booklet in PDF Format updated January 2013 available here.
Cannot open some or all of these PDFs? It can mean your PDF viewer is out-of-date.
Use this link to update your viewer to the latest version.
---
Intelligence Community - Five Years in a Row - Named 2013
Best Place to Work in the Federal Government
For the fifth consecutive year, the Intelligence Community (IC) was honored as one of the top-ten Best Places to Work in the Federal Government, according to an independent analysis of federal workers' job satisfaction and commitment.
The rankings were compiled by the Partnership for Public Service (PPS) and American University's Institute for the Study of Public Policy Implementation (ISPPI) and announced recently in Washington, D.C. PPS is a nonprofit, nonpartisan organization that aims to attract people to federal careers and improve how the government runs. The institute conducts research and helps federal leaders solve difficult public-policy issues.
The IC ranked third overall among large agencies, which includes over 30 organizations, each of which employs more than two thousand people. Rankings are based on data from the 2013 Federal Employee Viewpoint Survey, which the U.S. Office of Personnel Management administers. The first Federal Government survey was in 2003, but the IC has only participated since 2009. Max Stier, president and CEO of the Partnership for Public Service, noted that the IC does not have to participate but does so voluntarily, "which is a credit to them."
To maintain the security of information about its work force, the IC relies on its own survey instrument to assess each year how its workers feel about issues such as job satisfaction, professional development, and the effectiveness of senior leaders. The IC includes several questions from the federal survey in the IC's annual Employee Climate Survey. That way, the Community's information can be compared with that from other organizations.
Other top-five large organization Best Places to Work are: The National Aeronautics and Space Administration and the U.S. Departments of Commerce, State and Justice.
Visit bestplacestowork.org to see which agencies top the rankings and to access trend analysis, demographic data and all 10 workplace categories, as well as generate custom reports and conduct side-by-side comparisons for up to three agencies.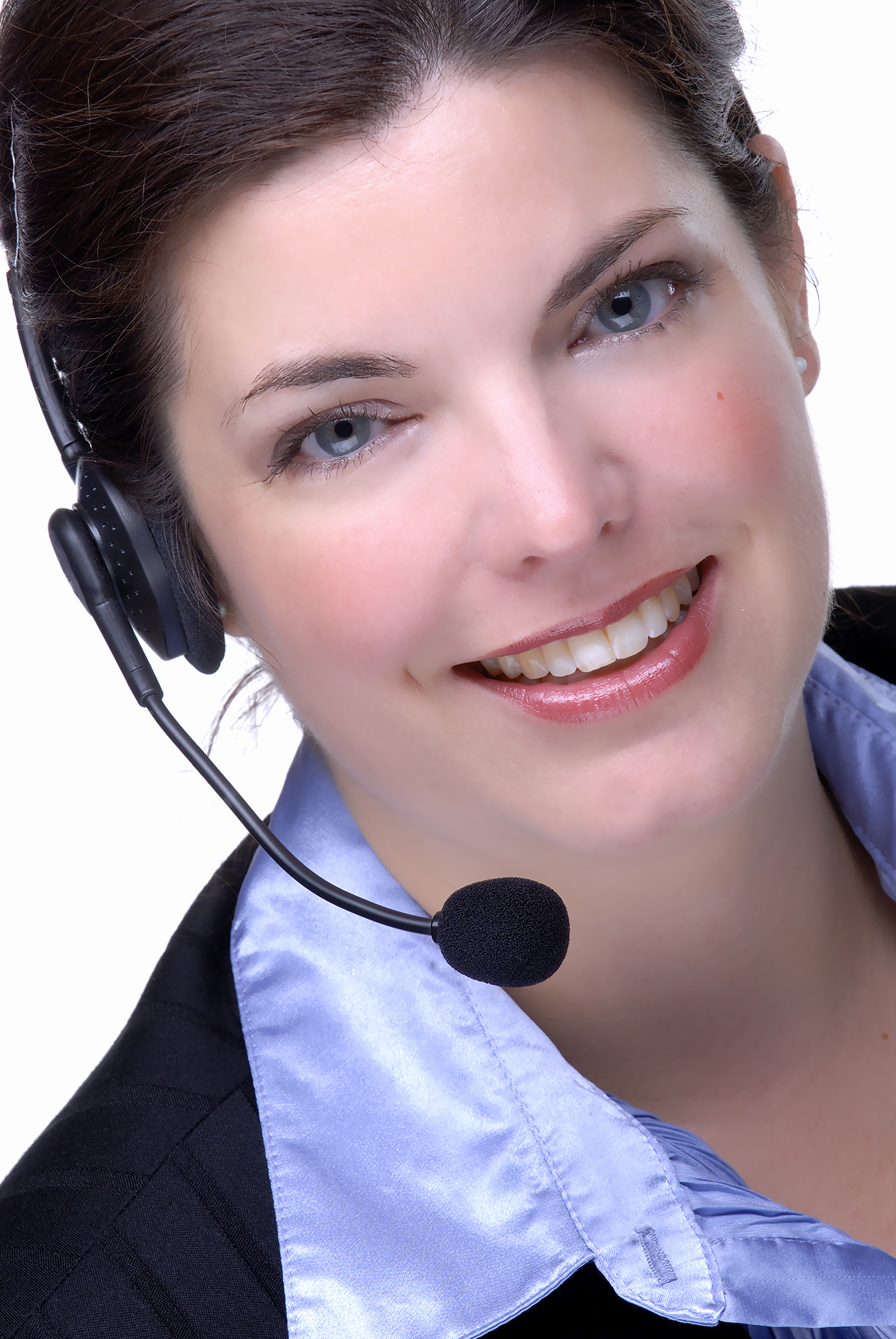 Become a Member
or a Subscriber

Join AFIO or subscribe to our publications and enjoy all our unusual member benefits
JOIN:
As a Member or Subscriber - Use this Online Form
As an Agency, University, Foundation, or Corporate Member -
Use this Online Form
or this pdf document you can print to send in by mail
RENEW:
Renew or Reinstate Your Membership or Subscription here
UPDATE:
Your Email or Mailing Address here.
---
---
AFIO BOARD OF DIRECTORS' Photos and Public Biographies
---

We Thank These Corporate and Foundation Members
Join as a corporate
or foundation member
---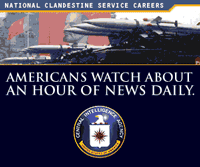 ---
---
Movies of Interest to AFIO members can be found here.
---

Send your articles and reviews to afio@afio.com for the journal INTELLIGENCER...
This issue mailed to all current members and subscribers on July 21, 2014.

---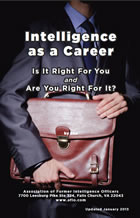 NOW AVAILABLE

Updated for 2013
Intelligence
as a Career

Is It Right For You
AND
Are You Right For It?
Click HERE, or the cover photo above, for the updated version of Careers In Intelligence Booklet.
Released 10 January 2013
---
Donations Needed -
Help AFIO continue our Special Events, Publications, and Speakers Program.
If you are interested in considering a bequest or deferred, income yielding gift such as a charitable annuity (with a lifetime of income to self and/or spouse), please explore our Bequest Booklet below:
Bequest and Deferred Gifts To AFIO
Consider an immediate donation here, of any amount to underwrite the many free talks AFIO Members provide groups across the country.
---
---