Welcome to the AFIO Online Store
Here are some items that might be of interest. Please take pride in your AFIO membership and Support AFIO.
---
A SPY'S LONDON by Roy Berkeley. Foreword by Rupert Allason (author Nigel West)
Price: $35.00 [includes shipping]
Softcover - 363 pages, extensive maps and photographs. Published by Leo Cooper, London, 1994.
Click on book image to see large version of cover.
"Cloak and dagger buffs now have their own guide...a fine new perspective on a favorite city." - www.finetravel.com
"confirms London as the spookiest city in the world." - Building Design, London
"a riveting tour de force" - Arnaud de Borchgrave, author
"fascinating, well-organized, perceptive, informed ... if you're going to London, take this book with you; if not, read it for fun." Robert Scott Milne, Travelwriter Marketletter
"...provides a concise review of the pertinent literature. That, plus use of personal interviews, increases the value of the very good summaries of the often controversial operations. ... there is much here to provide stimulating hours of walking through a wonderful city. ...a splendid contribution." - Hayden Peake, World Intelligence Review
"to visit any of the 136 sites in this book, no prior arrangements are necessary. A number of the buildings can be entered, but don't be surprised if the current proprietors or occupants know less than you do. The book takes the curious to some surprising places." - Travel Books Worldwide.
A lively and fact-filled walking guide of 136 sites in Central London relating to spies, spycatchers, and subversives from more than a century of London's secret history. Read this and you will never see the streets of London in quite the same way. Scrupulously researched and engagingly written, Berkeley has created a true gift for armchair travelers as well as any sensibly shod tourist to London. "A remarkable book."
Readers are whisked behind the facades of ordinary buildings to see the history of intelligence as a record of achievements and failures of real people. Included are knowledgeable comments of many other observers, as well as the latest revelations from Russia's Foreign Intelligence Service and the latest views on the role of Britain's secret services after the Cold War.
Berkeley arranges the book into 21 walks, beginning in Westminster and proceeding south to Pimlico and Vauxhall, west to Knightsbridge and Holland Park, north to Maida Vale and Regent's Park, east to the Strand and the City. Among the sites: the modest hotel suite where an eager Red Army colonel poured out his secrets to a team of British and American intelligence officers; the royal residence where one of the most slippery Soviet moles was at home for years and where his traitorous activities were know for years; the London home where an MP who was involved in a plot to appease Hitler was arrested on his front steps in 1940. These are many of the famous episodes in Britain's colorful espionage history which changed the course of the world. There are 136 photographs and 21 maps to make the trip by foot or eyes. A splendid gift. [review from Surveillant, a publication of the National Intelligence Book Center].
---
CIA INSIDER'S DICTIONARY of U.S. and Foreign Intelligence, Counterintelligence & Tradecraft.
Price: $75.00 [includes shipping]
Hardcover - 744 pages. Please note: Book was last updated 1996 shortly before the author died.
by Leo D. Carl. In high-tech reference-grade hardcover. 744 pages, Bibliography, Appendices, released in 1996. More encyclopedia than pure dictionary, Carl provides wide assortment of definitions, comparisons, cross-references, and fascinating current and little known explanations of investigative, security, espionage, and tradecraft jargon and terminology. Definitions and derivations come from impressive expertise of the author who is a retired intelligence professional, linguist, fine lexicographer, and tireless wordsmith. Before now, sales of this work were limited primarily to State and Federal Intelligence and Law Enforcement Agencies, who still order this work by the case. Before supplies vanish into solely institutional hands, the author (an AFIO member) made copies available to AFIO members, researchers and academicians at a discounted price.
---
AFIO Decal
Has AFIO name/logo as "Association of Former Intelligence Officers."
Uses static cling [no adhesive] so it can be easily removed, repositioned for window cleaning. Please note: it faces outwards to be viewed through glass, or can be applied to a very slick, flat, nonporous surface. The decal does not have adhesive on either side but uses static cling so works well on slick, flat surfaces like glass or metal - facing from underside (if glass) or on top for opaque objects. Size: 3.25" x 3.25" circle
$5.00 each, including shipping & handling.
Exercise caution in deciding if, or where, to use. Can draw unwanted attention. Suggest using as a private keepsake rather than as a decal on an automobile. If used on an automobile or other publicly-viewed vehicle, members do so at their own risk. Will not impress local law enforcement handling traffic infractions and bringing attention to it during such instances would be a violation of AFIO's Code of Ethics.
NOTE: Of this amount, 65% ($3.25) is a tax deductible donation to AFIO.
---
AFIO Lapel Pins - has AFIO name.
Discreet, small, in full color - size of a dime, traditional lapel pin, gold color, with full color seal etched, subtle and dressy.
$10.00 each, including shipping & handling.
NOTE: Of this amount, 65% ($6.50) is a tax deductible donation to AFIO.
---
ITEMS Available from Other Suppliers which benefit AFIO
A portion of the purchase price of items from these suppliers includes a gift to support the educational programs of AFIO National. Please Place orders directly with suppliers as indicated. All transactions from these dealers are between customer and supplier.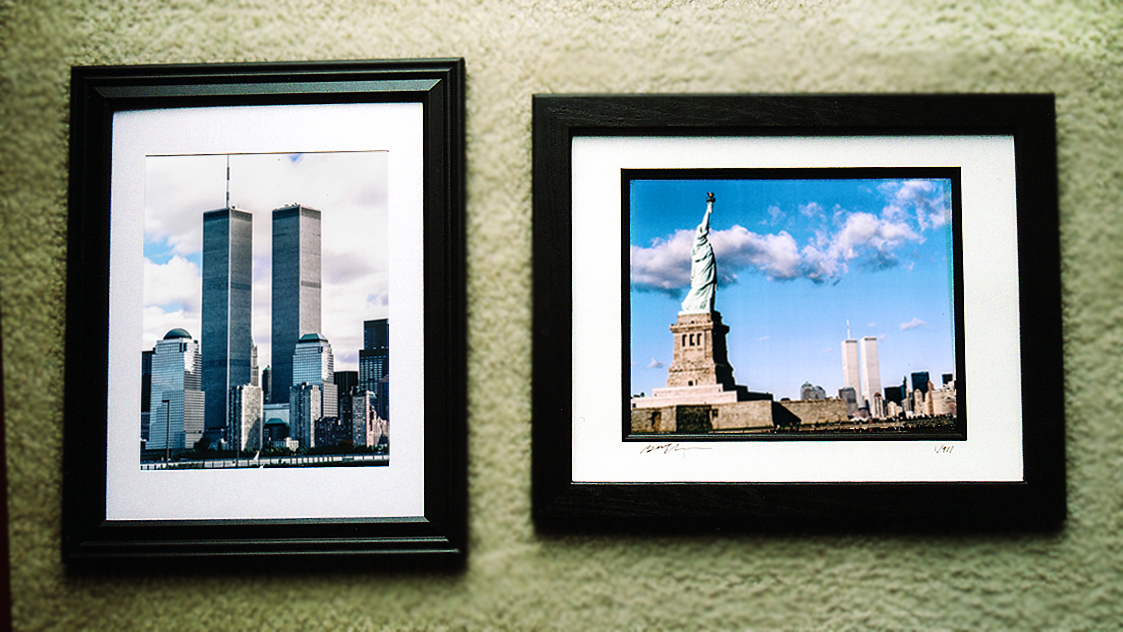 A Lady Liberty and World Trade Tower Color Photograph - numbered and signed, limited edition [911 copies, only]

World Trade Towers - This 8" x 10" photo taken by former Agency officer in October 1998. Now a symbol of pre-Terrorist NYC. Photo arrives beautifully matted, framed, numbered and signed and measures 15 3/4" x 12 3/4" framed. A special collectors item for your wall or as a special gift. See shipping instructions below. Current price: $65.00 [includes shipping]
Lady Liberty - This 8" x 10" photo taken by former Agency officer in October 1998, with World Trade Towers in background. A unique, pre-9-11 photo to commemorate America before the onslaught of terrorism on the homeland. Photo arrives beautifully matted, framed, numbered and signed and measures 15 3/4" x 12 3/4" framed. See shipping instructions below. Current price: $75.00 [includes shipping]
BUY BOTH for the special price of $130, includes all shipping U.S.P.S. Priority Mail to one address.
Images above also available as collector-quality black and white prints [see below]. To purchase, contact gentlemanva@hotmail.com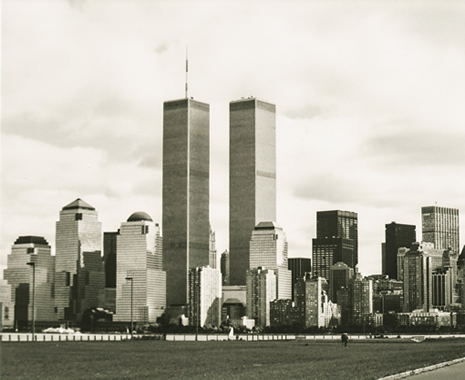 Overnight delivery available for an additional fee. For overseas shipment, contact first before placing order.
For further information about these special photographs, or to place order contact: 703-430-8508 and leave message; or email gentlemanva@hotmail.com
---
Two beautiful fact-filled charts or timelines for your office wall or gifts to colleagues.
Click on image to View Cover Text
'Counterintelligence' Timeline Wall Chart - DO NOT MISS THIS TIMELINE...available in limited quantities....
24"x36" high-quality color poster is shipped rolled and suitable for framing
Only $9.95 each
A useful, comprehensive and information-packed counterintelligence timeline by the CI Centre. This chart is a powerful counterintelligence awareness tool you could give a boss, instructors, students, and professors. No one can deny the reality of espionage against the United States and the need to invest in CI/Security when they see this 24"x36" chart of every known spy from 1900 to August 2006--when they began spying, where they worked, who they spied for and when they were caught.
A timeline no CI or security professional -- including researchers, academicians, or enthusiasts -- should be without. If you need to convince people that espionage happens and is a threat to our national security, show or give them this poster and they will be convinced. If you cannot recall all the cases -- this is the best, one page wall-display that lists all of them.
This is the fifth update of a classic the CI Centre has been producing since 1996. This time they completely retooled the design and presentation of information to make it more comprehensive and easier to understand as well as see the big picture. Each column on the chart shows a decade of events and spies, all broken down by year.
The first section has CI-related events in the FBI.
The second section has CI-related events in the CIA.
The third section has CI-related events in Congress (like hearings/laws, etc).
The fourth section is the largest in each decade and shows counterintelligence events and ALL spies publicly known. You'll quickly see what year they began spying, where they worked, who they spied for and what year they were arrested. You'll realize how much spying against the United States has taken place and as you can see from the above photo [click on the thumbnail to see the full version], unfortunately no decade is immune from people deciding to spy against us. Understanding this reality encourages greater management and employee buy-in to the necessity of counterintelligence and security, awareness, reporting and good OPSEC.
The fifth section shows key world events to help put the CI events in context.
Also on this wall chart: a complete listing of all the spies named in VENONA, the flags of all the countries who had a spy convicted in US court (far more than USSR/Russia and China), and powerful quotes from counterintelligence professionals about the reality of spying.
Order this indispensable counterintelligence tool today!
To order:
PHONE-- Call 703-642-7450 or call toll-free to 1-866-779-8735
Mon-Fri 8 am-5 pm Eastern Time. On off hours leave message.

FAX/MAIL -- Fax or mail the Order Form Located Here

ONLINE -- Secure credit card orders
To learn more about the chart or to place an online order visit CI Centre 2006-7 Timeline Chart
---
Click on image to View Cover Text
'Operational Games' Timeline Wall Chart - ...available in limited quantities....
24"x36" high-quality color poster is shipped rolled and suitable for framing
Only $9.95 each
The CI Centre has created a large, color chart of the espionage wars of the United States and the Soviet Union/Russia from 1950 to today.
Called The Espionage Wars: 'Operational Games' (a term used by the Russians who actively practice what the US called "Denial and Deception" operations), this poster is a must-have for any counterintelligence, security or intelligence professional as well as those with an interest in espionage cases.
The CI Centre has spent long hours conducting exhaustive research to graphically chart the major US and Soviet/Russian spy cases since 1950. The timeline shows when a spy began his/her espionage activity and when the espionage effectively ended. Included is the full name of the spy, their codename, who they worked for and who they spied for.
The timeline has a detailed legend of the different colors used to show different activity, as well as photos of the spies described in the timeline. Never before have such a complete list and photos of Russians who spied for the West been collected in one place. The legend also shows in all the books and court affidavits used as the sole sources for this incredible timeline. ALL of the details on this timeline chart were gathered ONLY from these open sources.
The Espionage Wars: 'Operational Games' timeline is a look at US and Soviet/Russia spies. The more you study this chart, the more you will see the importance of recruiting a spy to catch a spy. You'll also clearly see the sudden drop-off of Russians who spied for the US when CIA Aldrich Ames and FBI Robert Hanssen began their spying for the USSR. These relentless espionage wars going on in the shadows show success and failures on both sides. Each side, at one time or another, had a spy who delivered vital information capable of giving that side the upper hand in the event of a war. This is why KGB archivist Vasili Mitrokhin realized, "How thin the thread of peace actually was during the Cold War." A thread that was unknown to everyone except those intelligence and counterintelligence warriors who fought in the shadows.

Ideal for your office wall, as a gift to an Associate or as an educational tool.
To order:
PHONE-- Call 703-642-7450 or call toll-free to 1-866-779-8735
Mon-Fri 8 am-5 pm Eastern Time. On off hours leave message.

FAX/MAIL -- Fax or mail the Order Form Located Here

ONLINE -- Secure credit card orders
To learn more about the chart or to place an online order visit CI Centre Operational Games Timeline Chart
---