The Association of Former Intelligence Officers (AFIO) presents this website to serve our members and visitors as a portal to the activities of AFIO
and other US intelligence community groups [see ICAN. in left column]
---
Upcoming AFIO and Intelligence Community Events
Many informative, fascinating programs are occuring in the Washington Metro Area and across the country. Find out which ones to add to your calendar to stay connected and to stay current.

Corporate
Learn how your company can make a difference with AFIO corporate memberships and marketing opportunities. Reach more than 4,800 intelligence professionals.

National Members
Join AFIO or renew your existing membership and enjoy member benefits, such as special invitations to events, unique banking & investment services, scholarships and career assistance.

Publications
Sign up and receive the popular Weekly Intelligence Notes [WINs], and the printed industry journal: Intelligencer - Journal of U.S. Intelligence Studies, 3 issues per year for the intelligence community by intelligence professionals. AFIO also produces Intelligence As A Career - a frequently updated printed and online guide to organizing your life and education to qualify for work in the intelligence community, and a Guide to the Study of Intelligence intended to assist college instructors and secondary school teachers of history, civics, and current events.

About Us
Learn about AFIO - our many events, publications, programs, and legislative alerts. Support AFIO with purchases and donations or meet our members at events throughout the US. Make your views known.

Chapters
Local AFIO Chapters are the heart of AFIO activities for many members, so join AFIO National and then consider adding a local chapter membership to your mix.

Upcoming AFIO and related Organization Educational Events ... Full listings found here

Saturday 22 June 2013 - Milford, MA - AFIO New England Chapter hosts John J. Strauchs at their Summer Meeting

Schedule: Registration & gathering, 1000 - 1130, Membership meeting 1130 - 1200; Luncheon at 1200 followed by keynote speaker John J. Strauchs; Adjournment at 2:30PM.
Our afternoon speaker is John J. Strauchs. His presentation is titled: The 1993 Bombing of the World Trade Center: The Wellspring of Counterterrorism Planning for Public Buildings
John Strauchs was the chief security engineering consultant for the World Trade Center following the 1993 bombing. John will discuss the risk assessment that was conducted for the Port Authority of New York and New Jersey in May 1994 and, despite comments to the contrary by political and news media pundits, that the possibility of the deliberate crashing of an aircraft into the towers was considered. He will reveal the many security innovations that were developed for the World Trade Center, as well as lessons learned—both good and bad—and how the 1993 bombing changed life in America and how we live and work today. The resultant security systems design consisted of more than 1000 security design drawings and an initial security construction budget of $54 million.
Note, as this meeting is a one day event we have not made any hotel arrangements.
Advance reservations are $25.00 per person. We can no longer accept walk-ins. Emails regarding your plans to attend will be accepted if you are late meeting the deadline. These must be sent to Mr. Arthur Hulnick no later than 7 days prior to the event. Location: Courtyard by Marriott in Milford, Mass. Hotel website is here.
********Luncheon reservations must be made by 12 June 2013. ************** Mail your check and the reservation form to: Mr. Arthur Hulnick, 216 Summit Avenue # E102, Brookline, MA 02446 or contact him at hlnk@aol.com Questions to afionechapter@gmail.com

---

25 July 2013, 12:30 - 2:30pm - Los Angeles, CA - David Glazier speaks on "Drones, Targeted Killing, and the Law" at AFIO LA Chapter

Glazier will provide a legal overview assessment of the use of drones for targeted killing.
Location: LAPD ARTC 5651 W Manchester Ave, Los Angeles, CA 90045
Please RSVP for attendance: AFIO_LA@YAHOO.COM

23 - 24 May 2013 - Fort Meade, MD - Schorreck Memorial Lectures at National Cryptologic Museum

---Thursday, May 23 – 1000-1200: "Understanding the Allied Approach to Radio Intelligence in the Pacific Theatre during World War II"

---Friday, May 24 – 0930-1130: "The Thought Behind High-level Cryptological Discovery, 1930-1945"

The Center for Cryptologic History is pleased to announce the upcoming 2013 Henry F. Schorreck Memorial Lecture. The Schorreck Lecture is a series of historical lectures named in honor of the former NSA Historian. It is presented annually by preeminent scholars who address cryptologic issues with an historical perspective. Previous talks have been delivered by scholars in the field such as David Kahn, Christopher Andrew, John Ferris, and Stephen Budiansky.

The speaker this year will be Dr. Peter W. Donovan (image at left), of the Department of Mathematics, University of New South Wales, Australia. A renowned expert in several subfields of mathematics, as well as on cryptologic history, Dr. Donovan has conducted some of the most innovative and path-breaking work to date on the Allied effort to break Japanese encipherment systems in use during WWII. He will be presenting two separate lectures detailing the cipher war in the Pacific, including revelations about the weaknesses in the Japanese naval codes that the Allies exploited, all of which led to dramatic successes on the battlefield.

These talks are free and open to the public. They will be held in the Magic Room of the National Cryptologic Museum. For more information about this event, please contact the Center at 301-688-2336 or history@nsa.gov.

---

22 June 2013, 2:30 pm - Kennebunk, ME - AFIO Maine meets to hear Martha Peterson, former CIA Ops Officer, describe her arrest, interrogation by KGB

Guest speaker will be Martha D. Peterson, who retired from CIA after a 32-year career as an operations officer. Martha describes what it was like to be a CIA Operations Officer assigned to Moscow during the Cold War and be arrested and interrogated by the KGB. Peterson has written The Widow Spy: My CIA Journey from the Jungles of Laos to Prison in Moscow (Wilmington: Red Canary Press, $18.95 paperback).
Event will be held at the Brick Store Museum Progam Center in Kennebunk, Maine. Further information available at 207-967-4298.

OTHER IMPORTANT UPCOMING EDUCATIONAL EVENTS....

31 May 2013, 7 pm - Washington, DC - The ESP in Espionage: An Evening with Alain Nu, The Man Who Knows - at the International Spy Museum

When the US government began their Star Gate program in the 1970s, they were focused on the possibility of using psychic channels to gather intelligence. Psychics, in a clinically controlled setting, were asked to perform "remote viewing"—attempting to sense targeted information about people, places, and events. Reports of the program's success run from the eerie to the off-base, but the intelligence world's pursuit of the mind's power has captured the imagination of Alain Nu. The Man Who Knows™ has long been obsessed with the strange, the unknown, and unexplained. His exploration of the unusual has led him to the field of mentalism and developing his untold powers. Nu's uncanny demonstrations blur the line between science and the mysteries of unexplained phenomena and have been featured in his own TLC Network television specials The Mysterious World of Alain Nu and his book Picture Your ESP!Now he is turning his ESPecially entertaining powers to the world of ESPionage. Join us for an evening with Nu inspired by Star Gate, the trickery of spies, and other top secret projects. Complimentary light hors d'oeuvres and a cash bar.
For more information or to purchase tickets please visit: www.spymuseum.org

---

Wednesday, 05 June 2013, noon - Washington, DC - "Global Terrorism, Espionage, and Cybersecurity Monthly Update," at the International Spy Museum

This noontime, no cost presentation is done in partnership with the CI Centre, to provide an opportunity to be the first to learn of the most current worldwide happenings in the field of intelligence and terrorism. Drawn from the Centre's SPYPEDIA®, the most comprehensive source of espionage information in the world. Each update covers important events and information which may not be reported by mainstream media outlets; such as, espionage penetrations and arrests, cyber espionage reporting, and terrorist events. Briefings led by CI Centre founder David Major will include trend analysis and coverage of new emerging issues of value to the intelligence and security professional and individuals with an interest in national security matters. Major will also highlight and review, as appropriate, new books and reports to keep you current with breaking developments in the national security arena. Tickets: Free! No registration required. See www.spymuseum.org

---

14 June 2013, 6:30 pm - Washington, DC - Surveillance 201 with Eric O'Neill - Spy School Workshop at the International Spy Museum

What if you were assigned to watch the most damaging spy in US history? As a young operative in the FBI, Eric O'Neill was put into position as Robert Hanssen's assistant with the secret task of spying on his boss, who was under suspicion of working for Russia. O'Neill's background with the FBI was in surveillance, so he was up to the challenge. O'Neill has run some previous recruits through a surveillance basics course, and now he's ready to take those with the expertise to the next level. This advanced small group surveillance exercise is best suited to those who already know how to track the "Rabbit" without being "made." O'Neill will rate your clandestine prowess while you spy on secret meetings and operational acts and see if you can uncover the spy skullduggery that's afoot while you are on foot. There is no guarantee that your "Rabbit" won't escape!
Space is limited to only 10 participants – advance registration required! For more information or to purchase tickets please visit: www.spymuseum.org

2 - 14 June 2013 - Charlottesville, VA - UVA 21st National Security Law Institute June 2013 Training Program

Each summer for the past two decades, the University of Virginia Law School's Center for National Security Law has run a highly intensive training program during the first two weeks of June. While primarily aimed at helping to prepare law professors to teach in the field, the program is also open to government lawyers from the United States and abroad. Classes are taught by some of the leading scholars and practitioners in the field, including the directors of the UVA center and of similar national security law centers at Duke and Georgetown.

The 2013 Institute will take place at the University of Virginia School of Law between June 2 and June 14. The deadline for applications is April 12, but applications may be submitted at any time before then. The $1950.00 tuition fee covers lodging during the seminar as well as books and other reading materials. Participants are responsible for their travel to and from Charlottesville and meals other than lunches during the two-week period.

Whether you are new to the field and need a broad overview of some of the most important issues, or are looking to update your expertise and take advantage of the networking opportunities the Institute offers, you will find it both an enjoyable and a rewarding educational experience. Further information on the Institute may be found at http://www.virginia.edu/cnsl/nsli.html, and questions about the Institute may be submitted by email to Professor Robert (Bob) F. Turner rft3m@virginia.edu or by phone to (434) 924-4083.

---

12 June 2013, 6:30 pm - Washington, DC - Wallis Simpson, Duchess of Windsor: Nazi Spy? at the International Spy Museum

When King Edward VIII abdicated the English thrown in December 1936 to marry Wallis Simpson, the world was agog. And many feared the political implications of a former king on the loose. What would these notorious lovers do? Would they attempt to influence world affairs? It seemed that the worst nightmare of many observers was coming to pass when photos of the two gleefully gladhanding Hitler appeared in 1937. During World War II, the former King was given governorship of the Bahamas—a post that those in-the-know rightly considered a form of exile. But just how dangerous were they? Amanda A. Ohlke, Adult Education Director at the International Spy Museum, will overview the most serious accusations and credit or debunk them. Much is made of secret files and gossip, but this June, the 76th anniversary of their controversial marriage, find out the truth about Wallis and Edward. After the presentation, toast the famed couple's marriage with some bubbly and trade a quip with the Baltimore-born Duchess. The Duchess, as brought to life by historical enactor Emily Lapisardi, will answer to some of the most heinous accusations in the spirit of Mrs. Simpson.
Space is limited – advance registration required! For more information or to purchase tickets please visit: www.spymuseum.org

---

14 June 2013, 7 - 8:30 pm - Arlington, VA - 15 Minutes with "POTUS" Briefing Competition Final Presentation at Founders Hall, George Mason University - No Charge To Attend.

15 Minutes with "POTUS" takes place at Founders Hall, George Mason University, Arlington, VA. This Policy Briefing Competition Enters the Final Stage. The three finalists now will display their briefing skills to high-level policymakers.
They were assigned to imagine that they are policy analysts at the National Security Council. They have been asked to prepare a decision memo for the President. The President has allocated 15 minutes for their briefing

The three great finalists will be presenting policy briefs to Chuck Robb, Michael Hayden, and Janine Davidson. POTUS—played by The Honorable Charles S. Robb, former U.S. Senator (D-VA); National Security Advisor—played by General Michael V. Hayden, former director, CIA and NSA; Secretary of Defense—played by Dr. Janine Davidson, former Deputy Assistant Secretary of Defense for Plans.
There is no charge to attend.

Here is the link to the RSVP page if AFIO members would like to attend to cheer-on and encourage these students and other attendees, and to meet the presidential stand-ins. 15minutes.gmu.edu/

15 Minutes with POTUS is hosted by George Mason School of Public Policy, in Founders Hall Auditorium, Friday, June 14, 2013, 7 PM to 8:30 PM (EDT) Arlington, VA.
---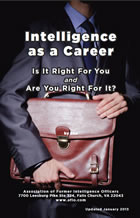 Intelligence as a Career - Updated with latest listings of colleges teaching intelligence courses.

AFIO's new booklet for high school and college students considering careers in the U.S. Intelligence Community.
Careers Booklet in PDF Format updated 10 January 2013 available here.
---
Intelligence Community Named 2010
Best Place to Work in the Federal Government
For the second consecutive year, the Intelligence Community (IC) was honored as one of the top-ten Best Places to Work in the Federal Government, according to an independent analysis of federal workers' job satisfaction and commitment.
The rankings were compiled by the Partnership for Public Service (PPS) and American University's Institute for the Study of Public Policy Implementation (ISPPI) and announced today at a ceremony in Washington, D.C. PPS is a nonprofit, nonpartisan organization that aims to attract people to federal careers and improve how the government runs. The institute conducts research and helps federal leaders solve difficult public-policy issues.
Army Lt. Gen. John F. Kimmons, the director of the intelligence staff for the Office of the Director of National Intelligence, accepted the award on behalf of the entire IC. "The fact that the IC placed in the top ten for two consecutive years reflects a work force understanding of the critical role they fill and the importance of our national security mission," he said.
The IC ranked tenth overall among large agencies, which includes 32 organizations, each of which employs more than two thousand people. Rankings are based on data from the 2010 Federal Employee Viewpoint Survey, which the U.S. Office of Personnel Management administers. The first survey was in 2003, but the IC has only participated since 2009. Max Stier, president and CEO of the Partnership for Public Service, noted that the IC does not have to participate but does so voluntarily, "which is a credit to them."
To maintain the security of information about its work force, the IC relies on its own instrument to assess each year how its workers feel about issues such as job satisfaction, professional development, and the effectiveness of senior leaders. The IC includes several questions from the federal survey provided by the PPS, in the IC's annual Employee Climate Survey. That way, the Community's information would be comparable with that from other organizations under consideration for Best Places.
Other returning top-ten Best Places to Work are: The Nuclear Regulatory Commission, Government Accountability Office, National Aeronautics and Space Administration, the U.S. Departments of State and Justice, and the Social Security Administration.
According to the Best Places to Work analysis, employee satisfaction is at an all-time high of 65 out of 100, a 7.4 percent jump from 2003 when the rankings were first released, with 68 percent of agencies improving their index score since the last rankings in 2009.
Visit bestplacestowork.org to see which agencies top the rankings and to access trend analysis, demographic data and all 10 workplace categories, as well as generate custom reports and conduct side-by-side comparisons for up to three agencies.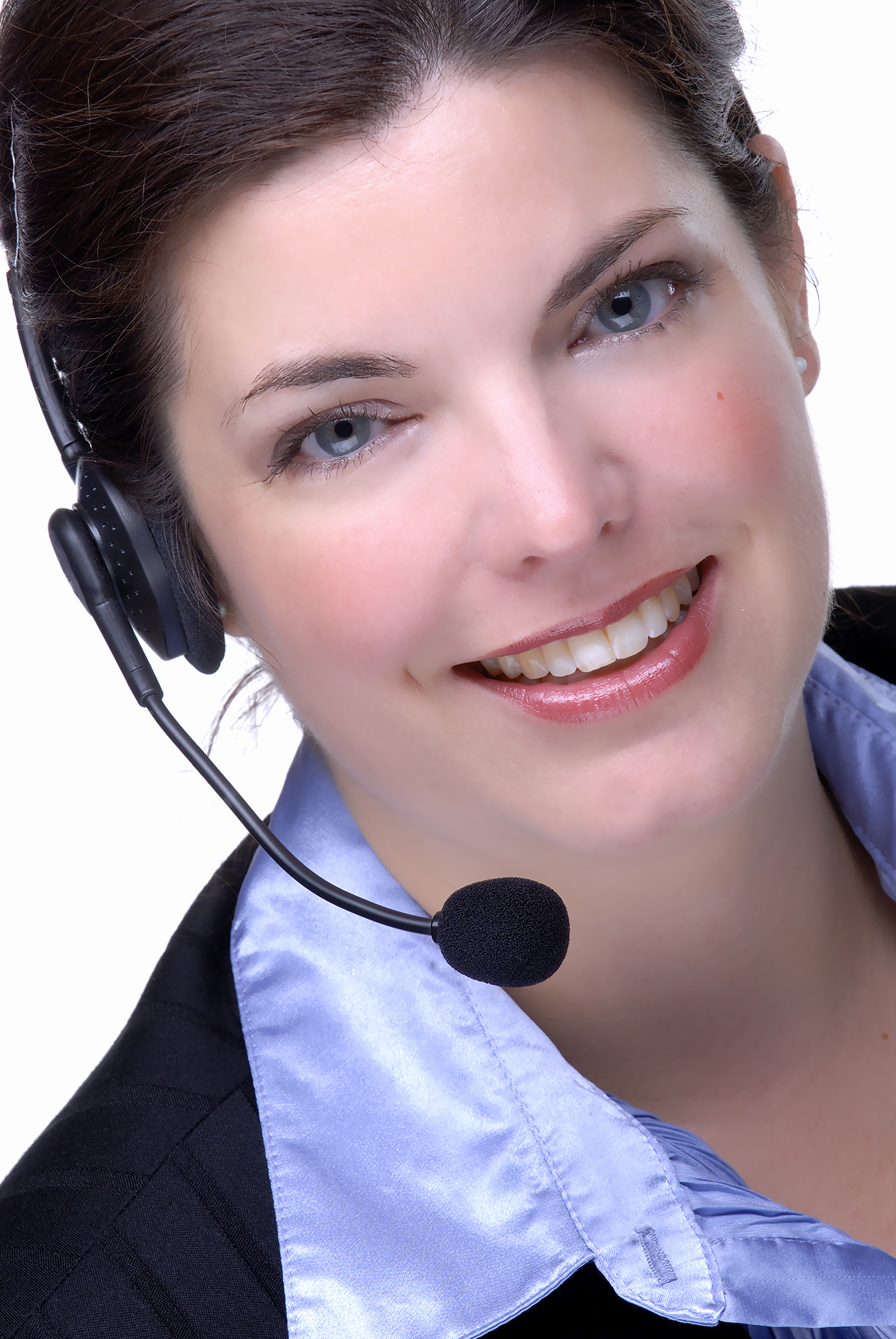 Become a Member
or a Subscriber

Join AFIO or subscribe to our publications and enjoy all our unusual member benefits
To Join as a Member, complete this Online Application for new memberships
To Subscribe, [not be a member] complete subscription form at this link.
Current Members ...
Renew or Reinstate Your Membership
Current Subscribers ...
Renew your Subscription

Update Email or Mailing Address use this link to update your email or mailing addresses.
All members must adhere to the Association's CODE of ETHICS.
---
---
AFIO BOARD OF DIRECTORS' Photos and Public Biographies
---
---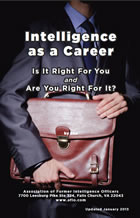 NOW AVAILABLE

Updated for 2013
Intelligence
as a Career

Is It Right For You
AND
Are You Right For It?
Click HERE, or the cover photo above, for the updated version of AFIO's Careers In Intelligence Booklet.
Released 10 January 2013
---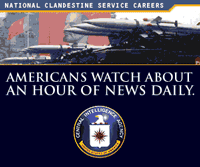 ---
Visit CICENTRE.COM to
explore their courses or subscribe to their SpyPedia Databases.
---

Put your Intelligence Career
on the Fast Track
Consider their new
PASS:PORT Program.
---
---
Movies of Interest to AFIO members can be found here.
---
Call for Papers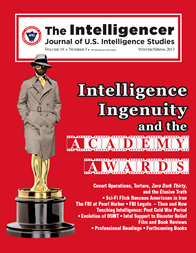 Send your articles and reviews to afio@afio.com for the journal INTELLIGENCER...
---
Donations Welcomed
Help AFIO continue our Speakers Program.
If you are interested in considering a bequest or deferred, income yielding gift such as a charitable annuity (with a lifetime of income to self and/or spouse), please explore our Bequest Booklet below:
Bequest and Deferred Gifts To AFIO
Consider an immediate donation here, of any amount to underwrite the many free talks AFIO Members provide groups across the country.
---
---